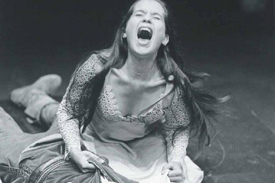 Following a nationwide search, Britain's brightest young dance talent will join the New Adventures company for the world premiere of Matthew Bourne's Romeo and Juliet opening at Curve, Leicester on 13 May 2019. A UK tour will follow to 13 venues, including a four-week summer season at Sadler's Wells from 7 to 31 August 2019.
Matthew Bourne's Romeo and Juliet is a passionate and contemporary reimagining of Shakespeare's classic love story. Bursting with youth, vitality and Matthew Bourne's trademark storytelling, the production is directed and choreographed by Matthew Bourne, collaborating with his entire New Adventures Associate Artistic team. This encompasses Etta Murfitt, Associate Artistic Director, set and costume design by Lez Brotherston; lighting by Paule Constable; sound by Paul Groothuis; and new orchestrations of the Prokofiev score by Terry Davies.
As part of New Adventures' ambition to support the next generation of on-stage talent, and inspired by the success of Lord of the Flies in 2014, Romeo and Juliet will feature the finest emerging male and female dancers from around the UK. The search began in April 2018 with a call-out for the next generation of young dancers currently in training aged between 16 and 19. Attracting over 1,000 applications and following a UK-wide audition tour, six Young Cast members at each venue will perform alongside the New Adventures company. This unique opportunity will nurture and develop young talent with a view to them embarking on a career in dance.
'Juliet' will be played by Cordelia Braithwaite, currently performing as 'Cinderella' on the international tour; Seren Williams, who joined the company in 2016; and Bryony Harrison who is making her debut with New Adventures on tour with Matthew Bourne's production of Swan Lake. Making her professional debut with the company is Bryony Wood, as 'Juliet', discovered during the Young Cast auditions in Southampton and in her graduate year at Tring Park School for the Performing Arts.
'Romeo' will be performed by Andrew Monaghan, currently 'The Pilot' in Cinderella; Paris Fitzpatrick who is playing the 'Angel' in Cinderella; and João Carolino who joined the company in 2017 with Early Adventures. Making his professional debut with the company is Harrison Dowzell, as 'Romeo', who auditioned for the Young Cast in Nottingham and is in his graduate year at Performers College.