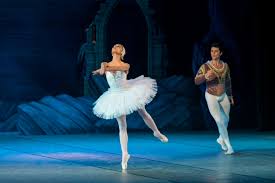 Russian State Ballet and Opera will bring its production of Swan Lake to the Kings Theatre, Portsmouth on 21 October. Featuring an impressive cast, and accompanied by a large live orchestra with over 30 musicians, the performance is directed and choreographed by former Bolshoi Ballet soloist, Konstantin Uralsky.
Swan Lake is a tale of tragic romance, of two young women, Odette and Odile, who resemble each other so closely that one can easily be mistaken for the other. It is a compelling legend in which a princess, Odette, is turned into a swan by an evil curse. Prince Siegfried chances upon a flock of swans while out hunting. When one of the swans turns into a beautiful young woman he is instantly captivated – but will his love prove strong enough to break the evil spell that she is under? From the opulent splendour of the palace ballroom to the mystical moonlit lake where swans glide in perfect formation, Swan Lake is the perhaps the most romantic ballet of all time.
The Russian State Ballet and Opera House is a showcase for Russian cultural traditions, bringing the passion and vibrancy of the Russian character to this well-known ballet. The company has built an international reputation for delivering performances of outstanding quality which never fail to delight audiences. The company works hard to ensure that its opera and ballet audiences get a chance to experience a wide spectrum of various classic pieces, with extensive national tours. It is therefore able to offer national audiences in various theatres an unforgettable experience at a fraction of the price of the major opera houses, all without sacrificing quality.
Amande Concerts, producer of The Russian State Ballet and Opera House is dedicated to delivering productions of the highest quality to British and European regional audience. With over 15 years of experience, it specialises in promoting Russian culture and aims to offer a vast variety of shows from the most popular repertoire of classical ballet and opera.