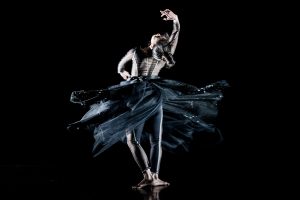 This month internationally renowned interdisciplinary performance company, CLOD ENSEMBLE will premiere its latest production. Placebo is directed by Suzy Willson, features original music by Paul Clark; having opened at The Lowry, Salford it will tour to Attenborough Centre for the Creative Arts, Brighton, DERELICT, Preston and will end with a two-week run at The Place in London.
Founded over 20-years ago by co-Artistic Directors, Suzy Willson and Paul Clark, CLOD ENSEMBLE works at the intersection of theatre, dance, music and visual art. With Placebo the company continues to push boundaries with its highly original, exhilarating performance language.
The performance itself explores the 'placebo effect' – what is fake and what is real? Following the performers through a series of 'experiments, sequences of both abstract and everyday movement are repackaged, distorted, repeated and abandoned in ways that inevitably affect the audiences' perceptions of what they see and hear.
Here performers Elisabeth Schilling and Yen-Ching Lin talk about their experiences in addition to director and choreographer Suzy Willson.
Born in Taiwan, Yen-Ching Lin studied at the Taipei National University of the Arts and the London Contemporary Dance School. Yen-Ching has worked with choreographers such as Charles Linehan, Jonathan Lunn, and Didy Veldman, and has danced for HofeshShechter Company and Bern Ballet, under the direction of Stijn Celis, before joining Akram Khan Company in 2010. Yen-Ching is interested in exploring different art forms and collaborating with different artists including a virtual reality film by AΦE, and an experimental, immersive food experience, by Sean Rogg & AΦE. Yen-Ching has been a member of Theo Adams Company since 2017. She now works as an independent artist and teacher and is developing her own research and creative practices in movement, photography and video.
Elisabeth Schilling is a dancer and dance maker. She studied at Dr. Hoch's Conservatoire in Frankfurt a.M. as well as at Trinity Laban Conservatoire of Music and Dance in London and at London Contemporary Dance School. Schilling regularly dances in international productions across Europe, and has worked for over 30 choreographers and well-respected companies such as Scottish Dance Theatre, Sasha Waltz (Repertoire), Trisha Brown (Repertoire), Koen Augustijn (Les Ballet C de la B), Clod Ensemble, Rosemary Butcher, Theo Clinkard, Fleur Darkin, Victor Fung Dance, and Bernard Baumgarten amongst others at institutions like Tate Britain, Tate Modern, Southbank Centre London, Sadler's Wells London, Grand Théâtre Luxembourg, The Lowry Manchester, and Wales Millennium Centre.
Over 21 years, Suzy Willson has created an extraordinary body of work that has pushed the boundaries of choreographic practice. After training with legendary theatre and movement teacher Jacques Lecoq in Paris she created CLOD ENSEMBLE with composer Paul Clark, creating award-winning, movement- based performance work which 'defies categorisation'. Her work is provocative, uncompromising and finely crafted – ambitious in scale and concept – shown in art galleries, theatres, dance houses and public spaces in the UK and internationally. Suzy's work has always encouraged people to see familiar spaces from a new perspective. She has inspired a generation of artists and choreographers who want to make interdisciplinary work and has created a powerful platform for artist development.
Elisabeth and Yen-Ching
Have always wanted to be on stage?
E: I've always wanted to be a dancer, and I guess with being a dancer comes being on stage, so in that sense – yes, I've always wanted to be on stage.
Y-C: Yes, I've always wanted to perform on stage, but sometimes there are many different kinds of stage – black box, or immersive, and any place for me could be a stage. I used to perform in black box stages where the audience was quite distant, but now I prefer to perform in spaces which are closer to the audience.
Where did you train, and what was it like?
E: I come from a little village in Germany and I started doing ballet as a child. From that came the wish to become a professional dancer. So I went to a ballet school in Germany and went through classical training, and after that I went to Trinity Laban and The Place to dance contemporary dance. It was because I trained in ballet in Frankfurt that I got to know Forsythe, and I then wanted to become a contemporary dancer.
Y-C: My training was in Taiwan at a vocational school – since I was 16. All the way from senior high school to university – in Taiwan the dance training is ballet, modern dance, Chinese opera, Tai Chi and martial arts, so we don't have a specific profession we have to go into, we had to do everything. I decided to quit university, and I came to study in London at The Place.
Describe a day in your life now.
E: I am a freelance dancer so it always changes, and I travel a lot and dance in very diverse projects. Some are almost classical and neo-classical, some are very theatrical and performance art-y, and I also do my own work so there is never a day like the other. I usually get up really early because I'm an early bird – I usually start with some exercises to get myself strong, check my emails, do class and have rehearsals, and do emails again before going to bed!
Y-C: My day used to be a lot of travelling and touring a lot – you would never know which day was which day, and you would wake up and not know where you are, which country or which hotel – but now my day is 'freelance'. I'm not normally an early bird but I don't sleep a lot, I don't need a lot of sleep. When I wake up first thing I stay in bed for half an hour just to warm up my joints before I actually get up. Then I have training, and I also watch a lot of cartoons and films!
What is life like as part of a company, as you are for Placebo?
E: Every company works in a different way, has different politics and a different aesthetic, so whatever company you work with it's always different. I really enjoy working with Clod because the working atmosphere is very nice, very kind and very generous, people listen to each other which is really good. It's not often that you experience that in dance companies so I really appreciate that.
Y-C: This is the first time I have worked with Clod, and at the beginning it took me a while to register because it is a very different company than I'm used to. Every director works differently and at first I felt confused – but after I while I registered I just needed to be patient and see things from a different perspective. The team is really open – there is lots of freedom and space for dancers to really explore and not be afraid. I think that is really important for all the people who are working and creating in the studio.
What has been the defining moment of your career?
E: When I was younger, because I have a really long body, I moved like a jellyfish and didn't have any muscles, so for a long time I worked to be really strong and able to control my body. So that moment when I felt I started to have that strength was a really amazing defining moment because I worked so hard on it. Secondly, every moment on stage is the thing I love most. Just being there dancing.
Y-C: I'm not sure if I've found this moment yet: I'm still searching. Every time I feel something comfortable, I am looking for something which I am not able to arrive at – I am constantly very curious where I can 'arrive', so for me I think it is a constant question!
What has been the most challenging?
E: I would say it is a career that you choose and you just have to be really persistent, so it's not that you arrive anywhere and think "now I have it", but you always have to be on the search for the next thing. You always have to be 'on it' – it is a challenge but it is also beautiful. You are really alive in that struggle! As a freelance dancer you have to manage yourself, and you may have several jobs at the same time – you are doing the job you are currently doing and you are already planning ahead – the income for the next month or the next year. It's a lot of organisation, communication and admin.
Y-C: I think the challenge of this career is the constant taking care of your body, regardless of whether I am in a company or I am freelance. In a company I would take lots of care, but when I became a freelance dancer, I had to take more responsibility for my body and keep fit. You cannot be lazy – you can't give up, the body cannot lie. Nobody can help you, the only person is you, and you have to be so honest with yourself and your body. It can be very lonely, because you are always on your own. Even if you are part of a team. You have to be quick to adapt to what is happening. Another challenge is fitting in to the group and it being harmonious, finding peace.
What's the most rewarding thing about dance?
E: I feel really alive for being a dancer – for me it is about finding all the different colours in dance and the different dynamics, different inspirations. How can you transform the feeling that you have today into your dance? How can you learn today? How does that change 'your dance'?
Y-C: Whenever I am dancing I feel alive. I feel the pleasure and the joy, and even if I am in pain, I feel the pleasure and that I am alive. It keeps me alive, and I feel like I am dreaming. When you are dancing you can use your imagination, and that's something I really enjoy, while moving and using the body. In the reality that's not always possible, but the imagination can bring it into the body.
What's the worst thing?
E: What I find difficult in this job is that you are basically working on many things at the same time: you are your own manager and admin person, and there is always a lot of administration and organization to do as a freelancer. When you are working on one project, you always have to work towards the next ones happening in the future already to be able to financially survive as a freelance artist. So this often means very many unpaid working hours and very little freetime.
Y-C: Dealing with injuries, and how to find a new way through. However this could be a reward: in Asia we have a phrase – when you are on stage for one minute, you have to have trained for 10 years.
Do you have any pre-show rituals when you're performing?
E: I do my exercises elaborately to get ready, and I also take a lot of time for my make-up and hair.
Y-C: Normally I shower to warm up, and then put on my make-up as a meditation, very quiet. Then I go to the side of the stage in the darkness for a while and really calm down, and then I am ready.
What is your advice to an aspiring dance artist?
E: Don't lose the passion. At the beginning you have to think, "Is that what I really want and what I need to do in this lifetime?" In dance there is a lot of aesthetic going on, and thought on right and wrong and looking right or wrong, but we live in contemporary times when there is a really wide variety of aesthetics and tastes which you might not be aware of. No matter what your preferences are there is always a way – if you really work there will be somebody who sees that so don't lose hope. There is no right or wrong anymore so everyone has something to give. Learn from every dance genre, everything has value.
Y-C: To become a professional dancer, it is not an easy career. But if you want a professional career you have to commit to what you would like to do. Don't forget why you chose to be a dancer – because you love it. If it becomes negative for you, always go back to the beginning of why you chose to become a dancer. Never forget why you decided to do it. Always enjoy the pleasure. Remember the basics and you will have a lot of freedom after that. Don't lose the imagination in your heart. Always be honest.
Suzy Willson
Who or what inspired this creation, Placebo?
I've always been interested in medicine and science, and we've done several productions in the past that have drawn on medical themes, one called An Anatomie in Four Quarters, one called Under Glass, and I am also part of a project called Performing Medicine which works with healthcare professionals. So the subject of 'placebo' keeps coming up as a really interesting topic. With the placebo effect it describes when a fake pill is taken and that person can still get real health benefits from it, even though there's no active ingredient, sometimes people do see an improvement in health. I was really interested in why that might be, and ideas around placebo effects, such as the context in which the pill is taken, the relationship with the doctor, the light, the colour of the pill (red pills are more effective than blue pills apparently), the charisma of the healer, the ritual of taking the pill, all of these things which can have a positive effect on somebody's health.
Can you describe the show in three words?
Invigorating, thought-provoking and moving.
Do you have any pre-show rituals, either if you're performing or watching your own creations?
The moment when I watch the first performance feels like a ritual in itself in a way – a moment of letting go or giving it up. That's a special moment. Sometimes I try to warm up a little bit, because often moments before the show starts it can get very tense and very stressful, so I try to get my own body in the most relaxed state possible so I can really enjoy what I'm about to see. It always looks different when you are watching it with an audience – it's a really exciting moment.
What has been the defining moment of your career?
That's a hard question – there have been so many. The first moment was meeting the other director of Clod Ensemble, Paul Clark. We met when we were kids, so that was important. His music has been really inspiring for me for over thirty years. I think in terms of 'dream come true' moments, there have always been spaces or stages where I've really enjoyed watching other people's work. Working on Sadler's Wells' stage was a brilliant moment, and working in the Turbine. A third one in terms of pure thrill factor was working with a helicopter in a show called Red Ladies, where we had to time exactly when the helicopter would land for a 'Red Lady' to get into it and be whisked off, so that seemed like an important moment when we started working with unusual forms of transport.
What has been the most challenging?
I think there is something about Clod's work, it sits in between genres so even though we work a lot with dancers, my background is in theatre, rather than dance. Paul is a musician, and a lot of my inspiration comes from visual arts, live art and performance art. So sitting between categories is quite challenging sometimes: not necessarily in the creation of the work but in terms of which audiences we will attract, the venues will we be working in, which critics will come and enjoy the work? Although I think cross-collaborative work is becoming more popular, it has presented some challenges. But it's really exciting for me and Paul now, to see how it is not as much of a challenge now as it was when we first started twenty years ago.
Describe a day in your life now.
At the moment I'm in rehearsals and our day is 10am – 6pm, and we just focus on what's important. There is usually a session where the rehearsal director is really focusing on the detail of the movement, and then I try to do a bit of improvisation with the dancers to try and keep them in touch with the themes of the show. Outside of the rehearsal I try to look after myself – I try not to have wild nights, but go home, eat properly, look after myself and make sure that I'm as ready and responsive as I can be. As it gets closer to the performance all the adrenaline builds, so it is important for me to be rested.
Where did you train, and what was it like?
I trained with an amazing teacher named Jacques Lecoq in Paris; he's not alive anymore but his method was about physical theatre and expression. He talked a lot about the body as being poetic, expressing beyond words. I had one of the most amazing years of my life there, and it gave me the idea that everything moves. At the school you spend a lot of time copying movement dynamics in nature, and seeing how things move, like leaves on a tree compared to fire or water. His basic movement vocabulary is one of nature, and then you transpose that into a dramatic situation. That vocabulary means that I work with lots of different types of people, because there is a universal language somewhere in the movement dynamics of nature which I really enjoy. It changed my way of looking at the world.
What is life like as part of a company?
It is brilliant! With Clod, Paul and I have been directors from the beginning, but over the years we have worked with so many different people, producers, administrators, communication managers, performers. Clod is not a collective but an ensemble, which comes from a way of working together. We aren't interested in star performances but there is a real sense of ensemble in our work.
What's the most rewarding thing about dance?
It speaks in a language which is very direct and accessible to many different types of people, and it says things that are impossible to say in words, which is very liberating. I have always found that powerful – the space for communication.
What's next for you?
Next year we are working on a show called On the High Road, which has dancers, but unlike Placebo it has a mix of performers in it. Some are coming from a more physical background, there are amazing singers: usually in our work there is this mix. In Placebo it is seven extraordinary dancers, and in On the High Road it's a mix of musicians, dancers and performers. That is a piece which is about a group of people who find themselves in the middle of a storm, in a pub. That's the basis of the story, but the piece that we are making is very abstracted, monochrome. There are a lot of themes of migration and refuge, and distance. They feel very pertinent