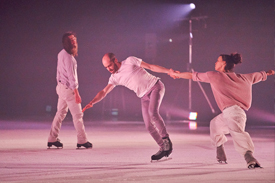 Founded by Alexandre Hamel in 2005, Le Patin Libre break the mould by challenging the conventions of traditional figure-skating through their experimental, and at times nonchalant, style, which draws influences from theatre, urban dance, and tap. From humble beginnings creating routines on the frozen ponds and canals of their hometown Montréal, their witty, inspired and creative performances have gone on to win fans around the globe.
Here Alexandre Hamel, Artistic Director, talks about the company's involvement in Dance Umbrella with Threshold…
Threshold will be the collective's latest show to be brought to London by Dance Umbrella, a performance of gravity-defying grace and danger. At Alexandra Palace Ice Rink, this UK premiere and Dance Umbrella commission will see the charismatic ensemble experiment with the choreographic possibilities of 'the glide' – a state that allows the body to travel at speed through space, without moving. Playing with contrast and change, they zoom towards viewers seated on the ice, combining athletic virtuosity with joyous physicality.
Presented by Dance Umbrella in partnership with Alexandra Palace. Supported by Québec Government Office, London.
When did you first start ice skating? Have always wanted to be an ice skater?
I started ice skating at about 3 years old. In Québec, there are free natural ice rinks in every park, during the winter. So, most kids start skating very young. So, I did like everyone else. Skating is to Canadians what football is to British people.
Then, as most little boys, I wanted to play hockey.  So, I was registered in ice skating courses, which are the first step to becoming a hockey player.
Because I was small and I liked to dance around, to do little acrobatics and to jump around, I was spotted as a future figure skater. So, my mom was ecstatic and all the figure skating moms at the rink jumped on me, treating me as a little prince. A few years later, I was in elite figure skating schools, on my way to the olympics.
Where did you train? Can you tell us a bit about the training process? 
I was from the middle-class suburbs of Montreal. This is where figure skating is extremely popular and there were lots of great figure skating schools around. So, at first, my mom drove me from one to the other so that I could train more than other kids. When I reached high school at about 12 years old, it became more organised, I was registered in one of the special schools for olympic hopefuls. I only went to school half the day, and I spent the rest of the day in intense training programmes at the ice rink.
The training process is extremely disciplined and secretive to what figure skaters call "the real world".  More or less through peer-pressure and professional, organised bullying, kids are formatted into perfect high-performing media products. Figure skating is mostly commercialised as a reality TV show, so kids are trained to be athletic, sexy, entertaining, conservatively minded, always smiling, happy and consenting, etc. I was extremely good at it until I started to discover this "real world": life, culture, people, diversity, freedom, partying, love… Then, I slowly started to take my distance from figure skating life. I moved to the city and I concentrated on my university studies and various projects. I was done with organised figure skating but still loved skating. The Patin Libre idea started to grow…
What age did you start competitive skating?
For me, it started to be competitive and professionally managed when I was about nine years old. I did my first international competition at 13.
How did each skater come to be involved in Le Patin Libre? 
They're mostly figure skating rebels. I consider they're clever types, alternatively minded, artistic free-thinkers. They all wanted to skate, but in a different context. And they believed in a new skating that could become a legitimate art form. Most of them first saw my videos on YouTube and emailed me. A few years ago, the troupe was a really indie project with not much resources. So, they had to take the same risks I was taking: lots of time spent on developing the project, no pay, crazy life styles travelling from one rink to the other and, most of all, sacrifice links with traditional figure skating and its super lucrative careers. This is why I consider this original team of 5 skating in Threshold as founders of our company and movement.
Jasmin is slightly different. He was our technician and DJ. He played hockey in Québec, so he could skate quite well. At some point, he started to develop his own style, training 6 hours a day. It became so good and so refreshing that he was included in Vertical Influences. Now, he's fully integrated in our creation and performance team.  He's a precursor of this new self-taught ice dancing style…
Why did you make the transition from competitive skating to performance art? 
First, the transition was from figure skating to a kind of naïve, rebellious, festive skating performance style. We did stunts, skated on a lot of AC/DC, turned ice rinks into underground bars and performed in traditional winter carnivals, more or less like street performers. Smelled like teen spirit. Good times, but it was only the embryo of a performance art.
Very slowly, we started to be interested by "pure" skating. We wanted to find a good reason to perform on ice. We discovered that glide was the only thing unique to skating. This capacity to move immobile bodies through space become the base of a choreographic technique we now call Glide. This was skating finally reaching modernity… At that point, our style evolved. By then, we knew about contemporary arts and understood exactly how skating could reach this. Lots of work still had to be done but we did it.
Tell us a bit about Threshold.
It's our second full-evening show. Our preceding one, Vertical Influences, was quite successful but we felt we could dig in deeper. There were lots of choreographic ideas that we didn't have the time to develop in the preceding show. So, Threshold is an effort to push things further choreographically. I think it's more refined, complex and rich. Glide and its kinetic effect become a motivator for movement of the body.  So, we're getting closer to contemporary dance, while maintaining the base and the essence of skating.
Threshold is about a little tribe (again) that lives a big accident. This trauma sends them in a zone/moment of change. The 5 protagonists (the 5 founding members) will have to understand themselves and each other, transform, re-arrange in order to find a new balance.
Glide allows us to manipulate time easily: fast forward, slow motion, complete time-stop, etc…  So, we can zoom in choreographically on this line between before and after. The line is discovered to be a grey zone where lots of things happen.
Dramaturg Ruth Little helped us to build this from the choreographic material that grew organically in the process leading to the show.  She's the super important 6th member of our creative team, although she does not skate or dance.
I think this reflection about trauma and change makes sense, now. We live in a world where big things are happening. Also, within the troupe, things are changing and people are growing. Threshold is a little bit auto-biographic for all 5 of us: we found new balance through the process leading to this show.
What were the main challenges during the rehearsal and development process of Threshold?
We need ice rinks to create, practice and finally show our work. Ice rinks are the usual territory of ice sports clubs. The territorial mentality is extremely strong, in this universe. To have access to these ice rinks, we end up making partnerships with the cities and council funding these public infrastructures. We offer them to create special events opening the ice rinks to the general public: ice dancing parties, workshops, initiations to ice skating. In exchange, the councils give us unused ice time or they allocate ice time for us and our citizen-outreach activities. Like this, we can create our shows and we participate in the revitalisation of ice rinks. By bringing thousands of citizens to discover them and enjoy them, we make them more sustainable and we divide their financial and ecological impact on many more users than when they are used in a more conservative way, by specialised clubs.
How did Le Patin Libre come to be involved in Dance Umbrella? 
In 2013, we had self-produced and self-presented a show called Skaters Anonymous. It was a transition creation, in between that artistic contemporaneity and our original teen spirit. I maxed my credit cards renting Alexandra Palace to present it in London.  Because it had a very good run, it was remarked by a few people, including Emma Gladstone, who now is the artistic director of Dance Umbrella.
A few months after, we were invited by Sadler's Wells for a creation residency of about a week. This is when we launched the project for Vertical Influences. A year later, Emma Gladstone programmed the show for Dance Umbrella.
Dance Umbrella and Sadler's Wells are the first artistic organisations who really understood what we were trying to do. They understood we were not figure skating just putting on a new branding but that we were really investing into a real transformative artistic project. They took a risk with us.
We like to say that Dance Umbrella is our fairy godmother.
You brought Vertical Influences to London as part of Dance Umbrella 2014, what excites you about returning to the festival?
We like this Dance Umbrella team. We know they are doing the best to give us a good context to perform. They managed to mobilise Alexandra Palace, which is the most beautiful indoor rink in the world. So, this is exciting.
It also feels like a culmination of huge efforts. We started to work on Threshold as soon as Vertical Influences was done, in 2014. We've been intensely on this since 4 years ago! We wanted to show that we could evolve and push things even further. Let's hope it works. So, yes, we're nervous. We wonder if London crowds will appreciate the evolution. At the same time, we know that the evolution we worked on is important for our art form and that it can be seen in the show.  So, we're confident.
Le Patin Libre last performed Threshold in London at Somerset House, what about Alexandra Palace attracted you to the space? 
In January 2016, we did supplementaries of Vertical Influences at Somerset House.  They installed a temporary outdoor rink during the winter.
This October, at Ally Pally, we will perform Threshold in the UK for the very first time.
We're happy to do it in a comfortable warmer rink. Alexandra Palace is really the best thing, for an ice rink. The show is new, fragile and extremely difficult to perform. So, this context is facilitating.
Also, in Ally Pally, we can easily have a great sound quality and deploy Sean Gleason's and Lucy Carter's lighting design perfectly. It's the best context to see the work as it was created.
Eventually, we might work on an outdoor version. But, for now, we're concentrated on this original version.
Do you have any pre-show rituals?
We unload the truck, install 42 LED lamps, 6 tripods, 12 moving lights, 2km of wires and 500 chairs in 60 minutes. Then, we strap our skates on and do it.
I don't like fake rituals. They sell those in yoga gyms.
What is your advice for any aspiring ice skaters?
Public skating sessions are a great place to learn skating. It's affordable, safe and fun.  We see kids who learn skating really fast by playing freely on those public skating sessions. They learn basic skating skills faster by playing tag than with conventional skating lessons.
So, my advice is to be a kid or to be like a kid. Just have fun, play and enjoy the fact that this difficult clumsy thing will slowly turn into a magical thing feeling like flight…
You might never need lessons!
And, who knows… maybe the next generation of ice dancers will be self-taught skaters, just like urban dancers…
What does Le Patin Libre have planned next? 
We started research on a new project. It will be our first work for a big ensemble.  We're moving from 5 skaters to 15 skaters. We're inspired by the way birds glide through the sky in those mesmerizing organic formations…