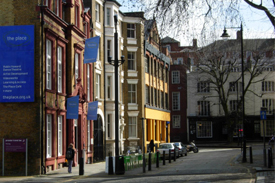 Richard Alston Dance Company has announced that its final tour will take place in 2019-2020. Richard Alston has been creating dance for over 50 years and his company has been resident at The Place for the past 24 years. In that time, Alston has played a major role in the world of contemporary dance, developing a unique and distinct dance language and shaping the art form in this country.
The company's current tour runs until spring 2019, including two nights at Sadler's Wells. It will tour in autumn 2019 including a special 'At Home' programme at The Place in celebration of the company's 25 years of work and its home's 50th anniversary. The company will tour for the last time in spring 2020 including a final Sadler's Wells season.
In addition to the training and development of outstanding dance artists and pioneering makers, The Place will continue its commitment to new work and this includes touring and producing the next generation of successful young artists, so they too can benefit from the expertise and investment of the organisation. Richard has been a part of The Place since the very beginning – he was one of the first students of London Contemporary Dance School under the leadership of Robin Howard and Robert Cohan, The Place's founders. He is an important link to the tradition of innovation and pioneering in contemporary dance.
Richard Alston Dance Company launched in November 1994 at The Place. It is one of the UK's leading choreographer-led companies, for which its founder Artistic Director Richard Alston has created over 45 dance works. Richard Alston is also Artistic Director of The Place, London's leading centre for contemporary dance, where the company is based. Richard Alston Dance Company focuses on Alston's new choreography but combines this with the re-creation of seminal past works from Alston's career. Music plays a vital part in the company's identity, and since its inception Alston has made work to the music of a diverse range of composers.