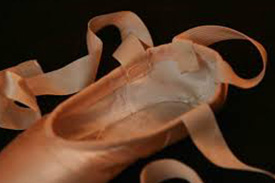 Hadar Neeman, a graduate from Israel's national school of art, the Bezalel Academy of Art, has designed a personalised pointe shoe made using 3D-printing technology, designed for the individual ballerina.
Named P-ROUETTE, Neeman learnt about pointe shoes specifically, and the more she got involved in the field of dance – and ballet in particular – she began to acknowledge that there was a lot of potential for improving the existing pointe shoe as it exists today, and therefore improving the quality of shoe and the experience of dancing on pointe for ballerinas.
Neeman ensured that each pointe shoe would follow the contours of a dancer's foot exactly as a result of the 3D-printing, and this would take into account things like bone spurs and bunions. As a result, Neeman could ensure that the newly designed pointe shoes would reduce any pain and damage from the shoes pinching and squashing the dancer's feet, in addition to increasing the comfort of the shoes as they are worn. Neeman also advocates that the shoes would last three times longer than normal pointe shoes.
In order to create a 3D printed pointe shoe, the foot must be scanned via a phone app. From this a digital model of the shoe can be built up on the computer including personalised features, such as the rigidity of the shank and box, and the length of the vamp. The sole can then be modelled, or 'printed', using a lattice structure created from an elastomeric polymer, perfectly fitting the individual foot, with the upper part being cut on a specially designed shoemaker's last.
The upper, fabric part, made of an elastic, satin-like material, can be joined to the sole during the 3D printing process so that the two parts don't require any gluing or stitching to hold them together.