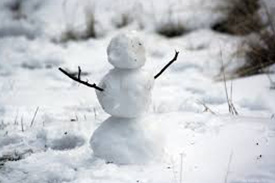 Forty years ago, Raymond Briggs' illustrated book The Snowman transported children into the wintery wonderland of a boy and his snowy companion. Now, in its record-breaking 21st year at The Peacock, Birmingham Repertory Theatre's twinkling production of The Snowman returns, as a magical mix of dancing and live music lift the boy and his friend from page to stage.
The show tells the story of a young boy's adventures when his snowman comes miraculously to life on Christmas Eve. Featuring a dazzling array of colourful characters including dancing penguins, a snow princess, her wicked beau Jack Frost and of course, Father Christmas himself, The Snowman is a Christmas treat for all the family and a perfect introduction to dance for the very young. It will run at the West End venue from Thursday 22 November 2018 – Sunday 6 January 2019.
Inspired by the film directed by Dianne Jackson and produced by John Coates, Birmingham Repertory Theatre's production of The Snowman has become an essential part of London's Christmas. Featuring choreography by Robert North, direction by Bill Alexander, design by Ruari Murchison, lighting by Tim Mitchell and unforgettable music and lyrics by Howard Blake – including the timeless Walking in the Air – the performance has been seen by audiences of over half a million at The Peacock.
Following its appearances at The Peacock, The Snowman will celebrate its 25th consecutive year at Birmingham Repertory Theatre, with performances from 16-26 January 2019.
Originally published in 1978, The Snowman, has become one of the world's most popular children's books. Available in 15 languages it has sold in excess of 5.5 million copies worldwide. Adapted for screen by producer John Coates, the Oscar-nominated animation launched on Channel 4 in its inaugural year in 1982 and has been repeated every Christmas since.