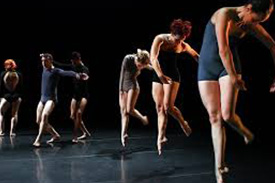 Launching in the 40th year of the festival, ResCen: Dance Umbrella at 40 will be documenting the creative process of artists it has commissioned, as they develop and create new work. The programme kicks off by capturing many of this year's events but will also chart how artists approach their choreography from the inception stage of their ideas, to the development of their vision through to a finished dance work programmed and performed at future festivals.
This is the first time Dance Umbrella will give access to insight into how artists make the work audiences normally only experience in its finished form. This new partnership with Professor Chris Bannerman and his ResCen team at Middlesex University will shift Dance Umbrella. It allows Dance Umbrella to work with artists as they develop the early seeds of an idea, and support it. Time for research is essential to test drive the strength and validity of new concepts, and ResCen provides a place where this can happen.
ResCen is a Middlesex University Research Centre and not only supports artists in reflecting on and documenting what is usually a closed-door process, but it also involves students, under the expert supervision of Professor Chris Bannerman, and joint team member Carolina Courbis, who will undertake many forms of documentation. The website will share videos from rehearsals, artists' notes, discussions and interviews; photography, blog posts, social media content and more. They will also create a 30-minute documentary about the 2018 festival and 40th anniversary.
ResCen has worked with several arts partners including Step Out Arts as part of the ArtsCross collaboration with Beijing Dance Academy and Taipei National University of the Arts; Sadler's Wells as part of the Elixir Ensemble's performance of Big Dance Theater's The Road Awaits Us. However, this is its most substantial, long-term collaboration to date. Bannerman is an ex-choreographer and LCDT dancer who made work for the first ever Dance Umbrella festival.
ResCen: Dance Umbrella at 40 can be accessed at http://rescen.net/DU40/