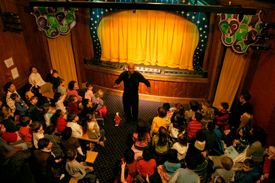 The Society of London Theatre recently released its London audience figures for 2017, in which theatre attendances have topped 15 million for the first time since data collection began in 1986. Data is collected from all theatres with a membership to SOLT, and shows the number is up by 5.35 per cent compared to 2016. Over the year the first two quarters showed a strong performance, however the final quarter of 2017 marked a noticeable fall in attendance and revenue.
In addition to this, last year box office figures were up by 9.35 per cent, with gross revenue coming in at £705,006,928. The average ticket price paid in 2017 was £46.71, which marks a continuous increase, with last year's average price being £45 – an increase on 2015 of 4.68 per cent. Sales from SOLT venues saw 77.5 per cent of available seats filled.
By genre, musicals have the highest attendance and revenue, garnering 8,744,590 attendees, an increase on 2016 of eight per cent, and revenue of £436,611,108 – an increase of nine per cent on last year. In comparison, attendance for plays was up seven per cent to 4,468,105 and revenue was up 16 per cent to £176,436,089. Accumulated figures for opera, dance, performance and entertainment was 1,881,878 – a decrease of seven per cent, while revenue was £91,959,731 up by one per cent on last year.
The number of new productions in 2017 was 258, which was 18 less than 2016 and marked the lowest number of new productions in a year since 2011. The industry has seen many challenges, particularly in the final two quarters of last year. Despite this, the industry has many reasons to celebrate, having seen growth in audiences for both plays and musicals.
Kenny Wax, president of the Society of London Theatre, said "The box office figures are a testament to the creative strength of London theatre and cements the city's status as the world's theatre capital."