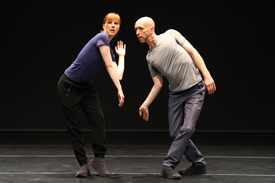 William Forsythe, one of the foremost choreographers of his generation, returns to Sadler's Wells with the world premiere of A Quiet Evening of Dance from Thursday 4 – Saturday 6 October.
For this unusual configuration of new and existing work produced by Sadler's Wells, Forsythe creates an intimate, pure evening of choreography, stripped down completely. The works range from sparse and analytic to baroque-inspired counterpoint. The intricate phrasing of the dancers' breath is the primary accompaniment for the geometric origins of classical ballet.
The programme will consist of two new pieces: a trio piece and a work for seven dancers. The evening will also feature DUO2015, which was last seen in Sylvie Guillem's final dance programme in 2015, and Catalogue (Second Edition), which premiered in 2016. DUO2015 received its world premiere in 1996. In the small space just in front of the curtain, just at the edge of the stage, is DUO2015, a clock composed of two dancers. An "intricate, almost baroque piece" is how Forsythe describes Catalogue (Second Edition) which was created for the DANCE ON Ensemble in 2016 and was performed as part of Sadler's Wells' Elixir Festival in 2017.
The evening is performed by seven of Forsythe's long-term collaborators who provide insight into the workings of ballet and the mind of the man who has dedicated his work to this task. The dancers are Brigel Gjoka, Parvaneh Scharafali, Riley Watts and Ander Zabala who were all former performers with The Forsythe Company. They are joined by Christopher Roman and Jill Johnson who danced with Ballet Frankfurt and Rauf "Rubberlegz" Yasit, who has developed a unique form of movement taken from b-boying which saw him travel the world to perform.
The multi-award winning William Forsythe has been active in the field of choreography for over 45 years. His work is acknowledged for reorienting the practice of ballet from its identification with classical repertoire to a dynamic 21st century art form.