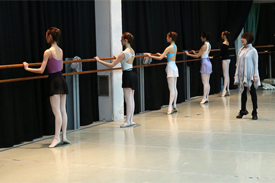 Birmingham Royal Ballet's talent identification programme has enjoyed a record year of success, providing free ballet training for talented young dancers. One day it could even find the next star of Birmingham Royal Ballet in its home city.
2018 marks the 21st anniversary of Dance Track – Birmingham Royal Ballet's talent identification programme aimed at training young dancers aged from six to eight. The project aims to identify and train young participants showing a potential for ballet, to great success. This year, Dance Track has enjoyed record levels of achievement, with more pupils being accepted onto vocational ballet school associate programmes than ever before.
The first Dance Track programme took place in 1997. It grew quickly, with 52 schools across north, south and central Birmingham participating in the programme in 2018. Every year, 2,500 children take part in a talent identification workshop at their primary school, and as a result, approximately 80 children who show a natural talent for ballet are invited to join the Dance Track programme. These children, who often wouldn't otherwise have an opportunity to participate in dance, are given free weekly ballet lessons taught by Birmingham Royal Ballet staff, as well as free uniform and ballet shoes.
Following their free ballet training, talented dancers on the Dance Track programme are given the opportunity to apply for both the Royal Ballet School and Elmhurst Ballet School associate programmes. These programmes provide children with more advanced training to refine their dance technique and are often the first step on the journey to becoming a professional dancer. This year 17 dancers are joining the Elmhurst Ballet School Associates and five are joining the Royal Ballet School Junior Associates.
It is clear that Dance Track changes peoples' lives, reaching out to all areas of Birmingham and offering a unique experience. It not only teaches ballet, but also skills and discipline required for all aspects of life, providing many opportunities.