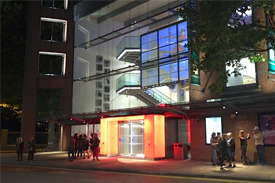 Sadler's Wells is set to celebrate the 20th anniversary of its current building by highlighting the exciting future of dance talent. During the anniversary week later this year, Sadler's Wells will introduce new distinctive voices with two mixed programmes of work commissioned by the theatre, as part of its '20 for 20' anniversary commissions.
'Reckonings' features new work by a new generation of UK-based dance-makers: Botis Seva, Julie Cunningham and Alesandra Seutin. In the Lilian Baylis Studio, the inaugural 'Young Associates' present a mixed bill showcasing the originality and potential that propelled them into selection for the new initiative, launched earlier this year.
Young Associates on Tuesday 9 and Wednesday 10 October will be an engaging mixed bill, and the first opportunity to see the work of the inaugural Young Associates. This new Sadler's Wells initiative aims to both celebrate and support young artists under the age of 25 as they begin to embark on their choreographic careers. Choreographers Anthony Matsena, Wilhelmina Ojanen, Ruby Portus and Christopher Thomas will showcase the innovative talent and original voices that have marked them out as 'ones to watch'.
Fully supported and mentored by established choreographers – Theo Clinkard, Bryony Kimmings, Arthur Pita and Sadler's Wells Associate Artist Russell Maliphant – the Young Associates are innovative grassroots choreographers who play with narrative, improvisation and pertinent themes.
Reckonings on Thursday 11 – Saturday 13 October will see Sadler's Wells presents three commissions by a new generation of UK based dance-makers: Sadler's Wells New Wave Associate Julie Cunningham, Alesandra Seutin and Botis Seva. These choreographers reflect a variety of dance styles – from post-modern dance to contemporary African and hip hop theatre. Intertwined with socio-political issues, the pieces tackle subjects including race representation, gender, identity, visibility and religion. Reckonings showcases fresh, distinctive voices helping audiences see the world in a different light, and open up challenging new perspectives.
Julie Cunningham recently launched Julie Cunningham Company after 15 years of dancing with the renowned Merce Cunningham Dance Company and Michael Clark Company. Alesandra Seutin founded Vocab Dance Company in 2007 and has been making work, performing and teaching internationally for over a decade. Botis Seva and his collective Far From The Norm have previously performed at Sadler's Wells with Breakin' Convention, and curated a Wild Card evening.