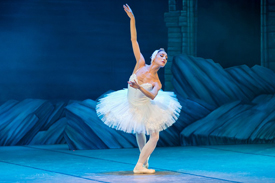 Ballet West, a leading vocational ballet school based in Taynuilt in the West Highlands, has launched a professional International Touring Company. The new company will be performing Swan Lake in Genting, Malaysia between 24 August and 2 September, with plans to perform at other venues in the Far East in early autumn.
A cast of 32 professional dancers will be headed by principal dancers, Jonathan Barton and Natasha Watson, dancing the principal roles. They will be joined by award-winning Japanese-born Uyu Hiromoto, and a select group of dancers from throughout Europe, including graduates of the Ballet West school. The touring production of Swan Lake has been specially choreographed by Daniel F Job, Ballet West's internationally renowned Artistic Advisor and Choreographer.
For Gillian Barton, Principal of Ballet West, this is an ambition the company has had for many years and major step forward for Ballet West. It can now provide professional opportunities for some of the outstanding young dancers who graduate from Ballet West each year. This year's repertoire for the International Touring Company will include Swan Lake, The Nutcracker, Romeo and Juliet, Giselle and Coppelia, and well as acclaimed contemporary work and original work created by top choreographers.
The International Touring Company will complement the Youth Company, which has been touring throughout Scotland since 1992. The company performed in China in 2010 and 2011, and in Malaysia in 2017. Unique to Ballet West, all the vocational students have the opportunity to take part in a tour of a full-scale classical ballet in Scotland each year.
Ballet West is based in Taynuilt in Argyll. Since it was established in 1991, Ballet West has steadily developed an ambitious educational programme and now offers full-time Higher Education courses leading to BA (Hons) in Dance, validated by the Open University. It also runs a variety of outreach classes for students from age two through to adults. These include classes for 300 young people throughout Argyll, four Summer Schools and two year-long Associate courses in Edinburgh and Glasgow.