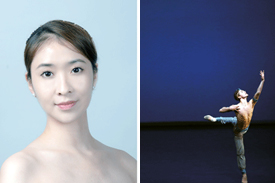 The Royal Academy of Dance has announced Hong Kong Ballet Principal dancer, and Genée Alumni, Ye Feifei as the Genée 2018 Ambassador. Over 50 of the finest young dancers working to the RAD syllabus from around the world have been selected to take part in this year's Genée International Ballet Competition, one of the world's most prestigious ballet competitions. The week-long event will be held at Hong Kong Academy for Performing Arts and Hong Kong City Hall from the 3-12 August 2018. Genée 2018 is held in partnership with Hong Kong Ballet.
Representing thirteen nationalities, from Australian to British, Canadian to Indonesian, the dancers aged 15-19 will take part in an intensive week of coaching from world-renowned teachers and choreographers. This year's Commissioned Choreographer, Carlo Pacis will create two variations which will receive their world-premiere at the Final on Sunday 12 August. Audiences at the Final will also be treated to an excerpt from Alice, performed by selected artists from Hong Kong Ballet.
Of the successful candidates, Canaan Wung Hay Chan and Jordan Yeuk Hay Chan from Hong Kong will be the first set of twins recorded to participate in the competition's 86-year history. Joining them will be a further four dancers from Hong Kong, as well as dancers from Australia, the UK, New Zealand, USA, Canada, France, Indonesia, Japan, the Philippines, Mexico, South Africa and Taiwan.
Since its inception in 1931, the Genée has awarded 73 gold medals, with winners going on to dance with some of the world's leading ballet companies including The Royal Ballet, The Australian Ballet, Hong Kong Ballet and National Ballet of Canada. The most recent Gold medallist (2017), Harris Beattie from Aberdeen, broke Genée history by also taking home the Choreographic Award and Audience Choice Award. He will join Northern Ballet later this month.
The public are invited to attend elements of the competition with tickets on sale for both the Semi-finals at Hong Kong Academy for Performing Arts, and the Final on the 12 August at Hong Kong City Hall.