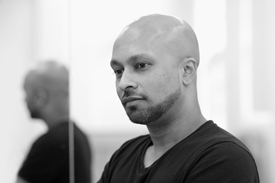 Celebrating a milestone 300 performances in 2018, Sadler's Wells Associate Artist Akram Khan's Chotto Desh returns to the Lilian Baylis Studio at Sadler's Wells from Thursday 18 – Saturday 20 October, inviting children aged 7+ and their families to enjoy its magic once again.
DESH was an instant hit with audiences and critics alike when it was first presented at Sadler's Wells in 2011. Four years later, Akram Khan Company and Theatre-Rites' director Sue Buckmaster adapted the solo into Khan's much-loved production for young audiences, Chotto Desh, meaning 'small homeland'.
Chotto Desh draws on Khan's unique quality of cross-cultural storytelling, creating a compelling tale of a young man's dreams and memories from Britain to Bangladesh. Performers Dennis Alamanos and Nicolas Ricchini share the solo role. Through a captivating mixture of dance, text, visuals and sound, Chotto Desh celebrates the resilience of the human spirit in the modern world.
Co-founded in 2000 by award-winning choreographer Akram Khan and producer Farooq Chaudhry, Akram Khan Company has established itself as one of the foremost innovative dance companies, performing to sell-out audiences in leading festivals and venues around the world.
Embracing Khan's artistic vision that both respects and challenges tradition and modernity, the Company has become renowned for its intercultural, interdisciplinary collaborations, and has developed a significant range of works from classical kathak and modern solos to artist-to-artist duets and ensemble productions. A milestone in the Company's journey was the creation of a section of the London Olympic Games Opening Ceremony in 2012.
The Company has been showered with prestigious honours including an Olivier Award for DESH and a record-breaking six Critics' Circle National Dance Awards. Akram Khan Company enjoys artistic association with Sadler's Wells in London, Curve in Leicester, and other leading venues and festivals around the world.