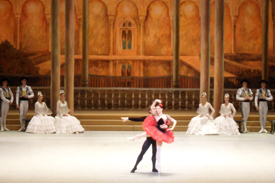 Multi-award-winning ballerina Natalia Osipova will return to Sadler's Wells with a new production and world premiere, from Wednesday 12 – Sunday 16 September. Produced by Sadler's Wells, Pure Dance is a hand-picked programme of eclectic dance works exploring both contemporary and classical ballet repertoire rarely seen in the UK. This is Osipova's second collaboration with Sadler's Wells, following Natalia Osipova, an evening of new contemporary work which premiered at Sadler's Wells in 2016 and toured internationally.
Pure Dance is a Sadler's Wells 20th Anniversary Commission. It will feature special guest American Ballet Theatre Principal David Hallberg, who joins Osipova in three works over the evening. These include a pas de deux from Antony Tudor's The Leaves Are Fading, one of the last works by the British choreographer; as well as a new commission by Alexei Ratmansky, artist in residence at American Ballet Theatre and former director of the Bolshoi Ballet.
Dancers Jason Kittelberger and Jonathan Goddard complete the company. Kittelberger, who performed alongside Osipova in her eponymous programme for Sadler's Wells, appears in Israeli choreographer Roy Assaf's Six Years Later. The duet reveals a couple who find each other after a long separation, performed to a mixture of Beethoven and Arvo Pärt. Goddard will join Osipova in an exciting new work by rising star Iván Pérez, who has created work for Ballet Moscow, Compañía Nacional de Danza and Balletboyz. In 2016, the feature film of Pérez's work for the Balletboyz, Young Men, received a Rose D'Or and a Golden Prague award.
Natalia Osipova is a Principal of The Royal Ballet. She joined the company as a Principal in autumn 2013, after appearing as a Guest Artist the previous season as Odette/Odile (Swan Lake) with Carlos Acosta. From 1995 to 2004 she trained at the Moscow State Academy of Choreography and on graduating entered the corps of the Bolshoi Ballet, where she was promoted to principal in 2010. In 2011 she left the Bolshoi to join the Mikhailovsky Ballet as a Principal.