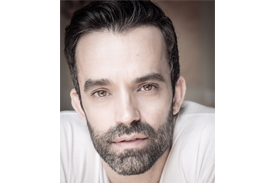 Aaron Sean Watkin graduated from the National Ballet School of Canada and enjoyed a full career in dancing with The National Ballet of Canada, English National Ballet and Dutch National Ballet. He was then invited by world-renowned choreographer William Forsythe to become a principal dancer with Ballett Frankfurt, and later joined the National Dance Company of Spain under the directorship of Nacho Duato.
Watkin was associate artistic director to Victor Ullate Ballet and a personal choreographic assistant to William Forsythe, setting his ballets throughout the world. Watkin was the artistic associate director of The Loft Dance Studio in Brussels, Belgium and was also artistic associate director of the annual Dance For Life AIDS Benefit Galas in Brussels, Belgium.
Watkin was appointed artistic director of the Semperoper Ballett in 2006, and in 2007 he choreographed his first full-length ballet production, The Sleeping Beauty, followed by La Bayadère in 2008, Swan Lake in 2009, The Nutcracker, together with Prof. Jason Beechey in 2011, and most recently Don Quixote in 2016.
Have you always wanted to be involved in the stage?
Since I was young I was performing in local dance festivals and competitions.
Where did you train, and what was it like?
I had my formal ballet education at the National Ballet School of Canada in Toronto, Canada from the age of 12 years old. Prior to that I was taking tap and jazz classes locally in my hometown of Duncan, British Columbia, Canada.
Describe a day in your life now.
Well, my typical workday now is spilt between administrative, managing work and artistic work in the studios coaching our dancers. But another very big aspect of my daily work is "psychology", meeting with my staff and dancers when they need to discuss work-related issues and sometimes also personal issues.
How important is ranging and diverse experience in your area of work?
Well I think it is very important. Obviously you need many skills to direct a dance company besides just dance experience. These include business management skills, developing long-term strategies, clear vision, team building, social skills, guidance and support plans for your employees, and then all the artistic skills of teaching, rehearsing, developing and nurturing your dancers. I really enjoy all the different aspects of my job equally, administrative as well as artistic work.
What has been the defining moment of your career?
Two defining moments of my dance career were creating "The Second Detail" with Forsythe as a young dancer in the National Ballet of Canada in 1990, and then joining Frankfurt Ballett in 1997. The defining moment of my freelance ballet master career was setting part of the Forsythe programme on the Kirov Ballet for the first ever premiere of Forsythe at the Mariinsky in 2004: that felt like history in the making! The defining moment of my career to date as Artistic Director of the Semperoper Ballet was touring with my company to the Paris Opera Garnier in 2017 with Forsythe's "Impressing the Czar", which we currently have exclusive world rights for.
What has been the most challenging?
Most challenging aspects of being an Artistic Director is managing people and problem solving. This job is 24/7 and can feel overwhelming at times and exhausting. Managing my stress levels is also challenging, and realising how to handle constant stress over long periods. Making time for yourself, eating well, sleeping well and exercise are extremely important for me is also finding the right balance between your work and private life is essential.
What's the most rewarding thing about the performing arts in general?
Well there are many different aspects that are rewarding about the performing arts. Getting to make a living doing a job you love and are passionate about. Getting to experience the unique world of dance backstage and behind the scenes and the feeling of performing to a live audience. Meeting different people from all over the world, dancers, designers, ballet masters, choreographers. Working with such diverse people from varied nationalities. Travelling.
What's the worst thing?
In general there are no real negatives, but as with any leadership position, it can become very insular and "all consuming", being wrapped up in your circle of work. Not being able to get out and see different companies and productions to stay current can be frustrating. Time flying by and feeling you are on a hamster wheel and can't get off!!
Do you have any pre-show rituals, either if you're performing or watching your own creations?
Not really, I just like to be alone and quiet before premieres to centre myself and focus.
Who or what inspired you to bring "All Forsythe" to Sadler's Wells?
Alistair [Alistair Spalding CBE; Artistic Director and Chief Executive of Sadler's Wells] approached me years ago with an idea to bring our company as part of a "Forsythe Profile", to bring several different dance companies from around the world to Sadler's Wells to perform Forsythe's works. In the end we did not participate but then a few years ago we spoke again and he invited me to bring our company for a full evening and we agreed that the "All Forsythe Programme" would be the best since we have become known as one of the main companies to watch for Forsythe's style which is of course a great honour!
Describe the programme in one sentence?
Diverse… showing off the many sensibilities and colours of William Forsythe.
What are you most looking forward to about the London performances?
So excited to be finally making our London debut after 12 years of our existence. We have toured to many major dance metropoles including New York, Paris, St. Petersburg, so it is wonderful now to add London to this list. I danced with English National Ballet for two seasons early in my career and have many friends in London. It is one of my favourite cities and feel very at home here.
What has been your favourite part of the rehearsal process?
As we have danced these Forsythe ballets over more than a decade now it is very inspiring to see our dancers evolving and developing into very sophisticated musicians and highly skilled experts in the Forsythe style.
What message do you hope to convey to audiences through All Forsythe?
Well I am happy to show off the diversity of Forsythe's choreographic voice and range of his emotional sensibility. Forsythe is not just an abstract deconstructionist he is also a romantic and lover of pure ballet. I think our "Neue Suite series of Pas de Deux" really illustrates his emotional range. I want our London audience to have a three dimensional visual, musical, emotional experience of Forsythe.
What is your advice to an aspiring artist?
Stay focused and have long-term goals firmly in place. Don't take things for granted, you are not "entitled" to anything, be prepared to put in the hard consistent work. You are in charge of your destiny and life every moment to the fullest.
What's next for you?
Well I have just signed a contract to continue as Artistic Director of the Semperoper Ballett for another three seasons until 2021. Then let's see what the future holds, but I am very open to what life presents me and also ready for new experiences and challenges if they arise!!