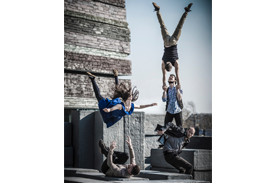 NoFit State Circus and Motionhouse are back in the UK following a trip to Australia to perform their outdoor dance-circus collaboration BLOCK to audiences from all around the Commonwealth at Festival 2018, the arts and cultural programme of the Gold Coast 2018 Commonwealth Games in Australia. The Australian dates have consequently kicked off six-month tour of BLOCK this summer. 
BLOCK is the unique collaboration between contemporary circus company NoFit State and Motionhouse, created and directed by Motionhouse's Artistic Director Kevin Finnan. The show sees dance and circus blend seamlessly, pushing at the boundaries of both artforms, based on an original staging concept by Ali Williams, former creative producer and co-founder of NoFit State. As part of the performance, twenty oversized blocks are deconstructed and reformed into an infinite variety of shapes for the performers to play on, move with and explore. BLOCK is about life in the city; its contradictions and challenges.
BLOCK was performed 10 times across one week at Surfers Paradise and Broad Beach on the Gold Coast. The Australian trip marked the start of a tour, which will see BLOCK and its cast of seven dancers and circus performers visit festivals and other outdoor events in the UK, and across Europe, taking work created in Leamington Spa to Austria, Belgium, France, Germany, Hungary and Spain.
Created in Leamington Spa in 1988, and this year celebrating its 30th Anniversary, Motionhouse is a leading UK dance company. It creates and tours a wide range of inspiring and powerful dance-circus productions to theatres and festivals in the UK and across the globe. It has an outstanding reputation for artistic innovation, education and outreach and offer a vibrant programme of education and training activities for all ages, including classes, post-show discussions, workshops in schools and a range of professional development opportunities.
Created in 1986 by five friends, NoFit State is a community bound by a common passion and a collective journey. It aims to create stories without narrative using large scale imagery, circus, live music, movement and innovative design. It invent worlds where the boundaries between the real and the imaginary, the possible and the impossible, become blurred, where the frontiers between artists and audiences are broken.