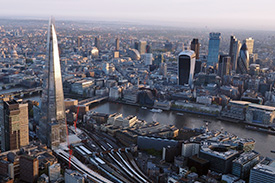 The Troubadour Wembley Park will open in autumn 2018 as a flexible 1,000- to 2,000-seat venue, able to be configured for in-the-round, immersive and proscenium arch shows. Moving away from the typical West End locations for theatres, this new build will also accommodate varying new audiences.
The brand new theatre is to open in autumn 2018, inside the former Fountain Studios, and has been designed by Troubadour Theatres. X Factor, Britain's Got Talent and Pop Idol have all been televised in Fountain Studios and a new 85 acre redevelopment of the area includes 27 affordable artist studios, 7,000 new homes and the largest Boxpark to date. The development will appeal to many in the theatre's vicinity, and it is hoped it will encourage new people to attend the theatre.
The theatre will be able to be configured into different settings – proscenium arch, in-the-round, or for immersive shows. Troubadour's previous experience of running a theatre includes the King's Cross Theatre, which housed The Railway Children, Lazarus, the Donmar Warehouse's Shakespeare Trilogy and In the Heights. Each of the productions was a success for the theatre, so there is much pinned on the new theatre for Wembley.
Troubadour Wembley Park Theatre will be a modern venue for modern audiences: it will have comfortable seating, increased leg room, a spacious and welcoming bar, a seasonal and innovative restaurant. In terms of the service for theatre makers, Troubadour Theatres offers a flexible, dynamic and exciting performance space which can be designed around the shows. This flexibility should add to the longevity and success of the theatre.
Wembley Park has seen £900 million invested in it since 2002 and a further £1 billion is expected to be put into the site. The theatre will also house a restaurant and bar.