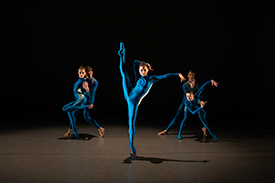 Elmhurst Ballet School, the associate school of Birmingham Royal Ballet, has announced details of its popular annual summer shows. Between 6 and 13 July, 'Summer Creations – An Evening of New Work' will showcase an ambitious programme of new commissions and world premieres by highly sought after choreographers, the school's artistic staff and prize winning students.
Elmhurst Ballet School is a world-renowned centre of excellence and prepares talented young dancers aged between 11 and 19 to become the thinking dance professionals of the future. The diverse programme of Lower, Upper and Whole School Summer Creations performances, presented in Elmhurst's studio theatre in Edgbaston, Birmingham, is the perfect opportunity to watch the dance stars of the future performing classical ballet and cutting edge contemporary work by an exciting array of dance makers.
The Upper School shows will include a new contemporary dance piece by critically acclaimed choreographer Alexander Whitley. Having created work for several of the UK's leading companies including Birmingham Royal Ballet, The Royal Ballet, Rambert, Balletboyz and Candoco, it's a coup for the school to have this Sadler's Wells' New Wave Associate Artist and Rambert Associate creating work for students. Danced by the graduates, it will mark the final year students' last performance at Elmhurst before they take up positions in dance companies across the world.
Also choreographing for Summer Creations Upper School shows is French-born, Germany-based modern dance choreographer Stéphen Delattre. He makes a welcome return to Elmhurst after creating work for last year's summer shows. Zak Nemorin is a performer with many West End shows to his name. Also a teacher and filmmaker, it is with his choreographer's hat on that he creates a jazz piece for the 2018 graduates. Brogan McKelvey, an Elmhurst graduate of 2017, Artist of Birmingham Royal Ballet (2017 – 18) and independent choreographer, will highlight the talent and versatility of Elmhurst-trained dancers, past and present, by creating a classical ballet inspired piece for the current Upper School students.
Flamenco Edition producer and teacher Ana Garcia, and Gloria Grigolato, Michael Ho, Silvia Jimenez, Hannah Lockyer, Tania Matos, Errol Pickford and Lei Zhao, and student Lorena Hardwick (Upper School Choreographic Awards winner), complete the Upper School show's choreographic line-up.