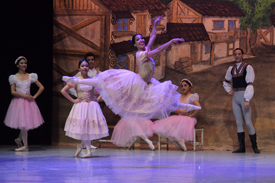 The Australian Ballet is bringing the much-loved ballet Coppélia to regional and remote communities in Australia in 2018. The critically acclaimed production will be presented in Victoria, Queensland and the Northern Territory from 18 July – 24 August.
The Australian Ballet 2018 Regional Tour will include rarely visited cities such as Bundaberg, Alice Springs, Darwin and Cairns, where it will perform at a special outdoor venue, Munro Martin Parklands. During this year's Regional Tour, The Australian Ballet will also be 'deep-diving' into the local communities through activities for children, schools and community groups beyond the stage.
The tour is expected to reach over 9,500 audience members in regional locations across three states, showcasing the artistry and technical skills of performers of The Australian Ballet and graduating students of The Australian Ballet School. In addition, aspiring dancers from Darwin and Alice Springs will be offered the rare opportunity to audition for a coveted one-week professional development placement with The Australian Ballet.
The Australian Ballet will also engage with local communities through education and community programmes. As part of the tour, The Australian Ballet's education team will visit 15 schools in regional Victoria, Queensland and the Northern Territory, giving over 3,600 students the chance to experience fun and immersive workshops free of charge. It will also offer programmes that give regional communities the opportunity to look 'behind the curtain'.
Audiences will meet lovers Swanilda and Franz and their neighbour Dr Coppelius, an eccentric toy maker who dreams of bringing his mechanical toys to life. Dr Coppelius has a daughter who is not what she seems and Swanilda must rescue Franz from the magician's sinister doll-filled hair. Bursting with sorcery and masquerade, romance and high jinks, this is perfect for all the family.