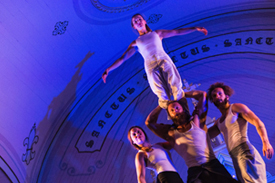 Canadian circus stars Cirque Alfonse bring TABARNAK to the Underbelly Circus Hub at Edinburgh Festival Fringe this year, reflecting on the importance of heritage, tradition and coming together through raucous contemporary circus cabaret in its UK premiere.
Live music and circus skills serve up a mass of entertainment in an eclectic fusion of performance. Inspired by the village church that was once the gathering place of the small Quebec community where the company members grew up, Cirque Alfonse have created their newest production, TABARNAK. A Quebecois expletive, which once formed a religious rebellious cry, now acts as an invitation to audiences to come together in a contemporary circus congregation, to celebrate heaven, hell and everything in-between.
As with previous acclaimed shows Timber and Barbu, music is fundamental to TABARNAK. A trio of electro-trad musicians perform live on stage alongside six talented acrobats who deliver demanding and daring acrobatic feats set to an explosive original soundtrack. The stage is set as the organ takes a riff on the traditional and the acrobatics turn the church pews upside down, all in the infectious jubilant style of Cirque Alfonse.
Cirque Alfonse is a young circus company from Saint-Alphonse-Rodriguez in the province of Quebec, established in 2005. Its founding members have all worked with some of the most renowned "nouveau cirque" companies around the world. This young company is comprised of a team of professional acrobats graduated from the École nationale de cirque de Montréal, as well as a professional dancer, an ex-skiing champion and three talented and versatile musicians.
Underbelly is a UK-based live entertainment company: its festivals and events division produces a number of events annually, including Underbelly at the Edinburgh Festival Fringe, Underbelly Festival on London's Southbank, Udderbelly Festival Hong Kong, Edinburgh's Christmas and Edinburgh's Hogmanay on behalf of the City of Edinburgh Council, and, West End Live in Trafalgar Square on behalf of the Society of London Theatre and Westminster City Council.
TABARNAK will run as part of Edinburgh Festival Fringe from 4 – 25 August.