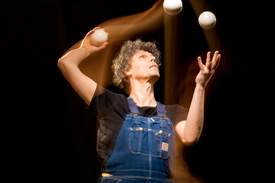 Gandini Juggling celebrates juggling in all its facets, exploring not just what juggling is, but what juggling can be too. Currently Gandini Juggling is an ever-evolving ensemble made up of a virtuosic core group of jugglers, and they regularly expand to include up to 20 performers for specially commissioned events and performances. 
Hugely prolific, the company is constantly creating new works, which range from radical art/juggling fusions to accessible theatrical performances, from choreographic studies to commercially commissioned routines.
In creating their work Gandini Juggling collaborate with a wide range of cultural leaders, and are influenced by a range of disciplines. These include, composers, ballet choreographers, fashion designers, computer programmers, sound designers, set makers and mathematicians. They have spent several seasons working with symphonic orchestras, choreographing juggling patterns lightly meshed to canonical classical works, and have had music specially composed for them by leading composers Tom Johnson and Nimrod Borenstein.
Sean Gandini is one of the pioneers of contemporary juggling. Working as a performer, choreographer and director he has, for over 25 years, pushed the boundaries of juggling as a discipline and as an art form. In 1991, with Kati Ylä-Hokkala, he co-founded Gandini Juggling and together they have been at the forefront of experiments into what juggling is and what juggling can be.
Have always wanted to be involved with the stage?
Yes! From age three or four. I wanted to be a magician or a circus artist.
Where did you train, and what was it like?
Kati (who runs Gandini with me) and I are autodidact. Or rather we have an endless string of training dance classes. But we are from a generation just before the circus schools.
Describe a day in your life.
On show days we do a dance class and then run parts of the show. On non-show days we tend to do a ballet or contemporary class then a couple of hours of juggling.
What has been the defining moment of your career?
There have been many special moments. Over the last five years we have had the fortune to bring our work to large theatres across the globe. Exceeding our expectations of what we could do with it. The shows you remember are not necessarily the biggest.
What has been the most challenging?
In the early days there was a lot of antagonism to our work. We had to believe in it to keep going.
What's the most rewarding thing about the performing arts in general?
To be able to communicate and share things with an audience is one of the best things about being alive.
What's the worst thing?
It can be nerve-wracking both performing and watching one's pieces. If one cares one gets nervous. It never goes away.
Do you have any pre-show rituals?
Bananas.
Who or what inspired you to form Gandini Juggling?
Many people. The choreographer Merce Cunningham has been an endless source of inspiration. On the juggling front Sergei Ignatov is a great classical juggler from whom we learned a lot. Of the new generation we love Wes Peden's work. He is the Miles Davis of juggling. We are also lucky to produce him.
How will Gandini Juggling be part of the Norfolk & Norwich festival?
We are performing Sigma which is an all-female quartet which combines juggling with Bharathanatyam, the classical Indian dance form. It is a very personal and intimate show, with a big rhythmic dialogue between the forms.
What is your advice to an aspiring performing artist?
Make pieces in the kitchen. Be obsessive. Study other art forms.
What's next for you?
Our next piece Spring will be at Sadler's Wells in London in January, and next year we will be performing the Philip Glass Opera Akhnaten which I choreographed, and features 10 Gandini Jugglers on stage throughout. Busy, happy times!