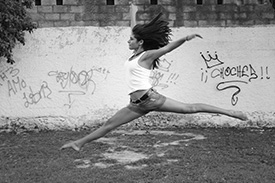 One Dance UK's annual national youth dance festival, U.Dance, celebrates its tenth year with a performance hosted in the UK's eastern region for the first time. The event will showcase a unique collection of youth dance work. Twelve dance groups have been selected from over 290 entrants nationwide through a series of 20 regional heats.
This year, U.Dance partners with DanceEast, based in the East of England, with the festival taking place at the Jerwood DanceHouse. Here, the weekend-long event will present an opportunity for youth dance groups to perform on stage, hone their skills in professional dance workshops, and meet and work with other young dancers from across the country.
The U.Dance national youth dance festival is an important event on the national dance calendar. From the regional platforms to the festival itself, U.Dance engages with more than 2,000 young dancers, encouraging them in the pursuit of excellence in dance and embarking on careers in dance, raising the profile of dance teaching and practice in all its diverse forms. The U.Dance events offer the opportunity for young dancers to celebrate their achievements together through a festival full of passion, energy and ambition.
This year, U.Dance has a dance-digital focus, and participants can take part in workshops focused on using new technologies such as virtual reality. The shortlisted entries to the annual screen dance competition, U.Dance On Screen, will be shown throughout the weekend. The weekend's performances will also be live streamed on the One Dance UK website.
U.Dance 2018 is presented in partnership with DanceEast with additional support from Ipswich Borough Council and University of Bedfordshire.