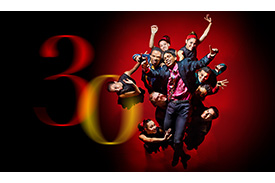 Internationally renowned Carlos Acosta has announced the repertoire that he will be performing, alongside his company Acosta Danza, for four special performances at the Royal Albert Hall from 2–5 October.
In a celebration of thirty years as a professional dancer, these performances mark Acosta's return to the London stage following his retirement from classical ballet in 2016. The repertoire will include Christopher Bruce's Rooster, including songs recorded by The Rolling Stones, and Alrededor no hay nada by Goyo Montero, together with Sidi Larbi Cherkaoui's critically acclaimed Mermaid, and a reworked version of Acosta's Carmen, full of Latin influences and accompanied by a live orchestra.
Mermaid will be performed by Carlos Acosta and Marta Ortega. Sidi Larbi Cherkaoui is well-known for his interest in different artistic and cultural practices. Following the inclusion of Faun into the Acosta Danza repertory, Cherkaoui was keen to explore another mythical creature for the company, prompting the idea of the mermaid. Instead of recreating the image of a mermaid literally, Cherkaoui places contemporary dancer Marta Ortega in pointe shoes. Like a fish out of water trying to walk on dry land, or a stranger in unknown territory, the mermaid looks for help and guidance – which comes to her in the guise of Carlos Acosta.
Alrededor no hay nada will be performed by Acosta Danza Company. In April 2015, by invitation from Carlos Acosta and Acosta Danza, Goyo Montero restaged his choreography Alrededor no hay nada. Deeply rooted within the Latin-American reality, Alrededor no hay nada reflects Goyo Montero's personal dedication to the voices of poets, songwriters and composers such as Joaquín Sabina and Vinícius de Moraes.
Carmen will be performed by Carlos Acosta and Acosta Danza Company, with choreography by Carlos Acosta. Don José falls in love with Carmen and sacrifices everything to be with her. When Carmen becomes infatuated with the treador Escamillo she loses interest in Don José, whose love quickly turns to violent jealousy. Don José tracks Carmen down and murders her. Carlos Acosta now presents his own adaptation of Georges Bizet's Carmen, with the story's universal and timeless themes are laid bare.