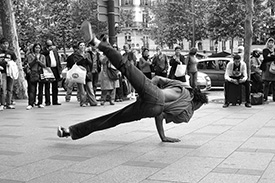 Dance Umbrella, London's flagship festival of international dance celebrates its 40th anniversary this autumn and has announced its full programme. Dance Umbrella will take place from 26 September – 21 October, and opens with Big Dance Theater's UK debut at The Old Vic with 17c, a look at the frank diaries of Samuel Pepys. Closing the festival at the Alexandra Palace Ice Rink will be the highly anticipated return of Le Patin Libre. The Montreal-based company defies every convention of figure skating to evolve a new dance form – on ice.
Other festival highlights include…
Beijing-based choreographer Wen Hui's first visit to the UK in ten years, Red looks at the famous Chinese ballet from the period of the Cultural Revolution: The Red Detachment of Women. Armed with guns, wearing pointe shoes, the all-female fighters of The Red Detachment of Women came to symbolise part of Mao's communist dream. As one of only eight permissible theatrical works of the time, for Red choreographer Wen Hui threads extracts interviews and anecdotal material from original cast members into a dramatic documentary performance that goes beyond the ballet and official Cultural Revolution records.
Guest Programmer Freddie Opoku-Addaie creates his second festival-within-a-festival for Dance Umbrella, which will include Via Kanana, a piece choreographed by South African dance legend Gregory Maqoma. Pulsating with rhythmic energy, Via Kanana stands as an expression of light and hope, defying the adversity and fear caused by corruption in a post-apartheid era. The dynamic artists will bring the whistling, tapping, clapping rebellion of the quick-stepping Pantsula movement to the stage. Enriched by video and a luminous choral score, Via Kanana speaks of a promised land not yet delivered, and humanity against the odds.
Conceived by Ivan Blackstock, co-founder of BirdGang Dance Company, CRXSS PLATFXRM elevates the underground, uncovering hidden genius from within London's street culture and beyond as a festival exclusive, and a fresh perspective on dance and street culture. Featuring a live freestyle dance battle, presented in collaboration with Rain Crew, experimental sounds and multifaceted performances from Paris-based Gonzy and established and under-the-radar artists, they drive an ever-morphing scene, with nods to fashion, art, music, tech and film.