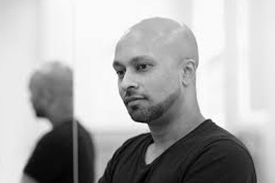 Renowned dancer and choreographer Akram Khan, a Sadler's Wells Associate Artist, and Akram Khan Company producer Farooq Chaudhry, launch Portraits in Otherness. This new initiative receives its world premiere in the Lilian Baylis Studio, London from 5-8 June.
Portraits in Otherness seeks to transfer the unique legacy and philosophy of Akram Khan Company. It allows promising early career dance artists the opportunity to choreograph and showcase solo works inspired by a unique blend of cultures, myths and rituals.
Presented in two programmes, four charismatic and talented choreographers are given the opportunity to inhabit the values of Akram Khan Company and develop their own work. Dickson Mbi presents Duende, a ritual of dance exploring the spirit of an artist, alongside Maya Jilan Dong with Whip, which takes inspiration from the folk dances of the Bai people. Joy Alpuerto Ritter performs BABAE, combining Philippine folk dance, classical training and hip hop, whilst Ching-Ying Chien showcases Vulture, an examination of the lifecycle, flaws and triumphs of humans through an animalistic lens.
The project also marks the first collaboration between Akram Khan Company and Peacock Contemporary Dance Company in China, which aims to support talented Chinese dancers and choreographers through domestic and international collaborations. Both companies share similar aspirations within the international dance community, and aim to nurture talents from their respective backgrounds.
Co-founded in 2000 by Akram Khan and Farooq Chaudhry, Akram Khan Company has established itself as one of the foremost innovative dance companies, performing to sell-out audiences in leading festivals and venues around the world. Embracing Khan's artistic vision that both respects and challenges tradition and modernity, the Company has become renowned for its intercultural, interdisciplinary collaborations, and has developed a significant range of works from classical kathak and modern solos to artist-to-artist duets and ensemble productions. A milestone in the Company's journey was the creation of a section of the London Olympic Games Opening Ceremony in 2012.