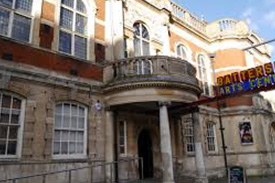 Battersea Arts Centre recently announced its Phoenix Season; the first theatre show of the season is acclaimed physical theatre company Gecko's Missing.
Missing was in Battersea Arts Centre's Grand Hall when it burnt down almost three years ago. Now it returns to complete the run that was interrupted by the fire that destroyed the Hall and Gecko's sets, costumes and props. This will be the first time that Missing has been performed in the UK since the stalled run in 2015.
The multi-award winning and internationally acclaimed physical theatre company was mid-way through the run of Missing in 2015. The company will return to complete the run of their visually stunning show from 6–15 September. Missing reveals something is missing in Lily's life and it's starting to eat at her soul. Enter a warped world of striking imagery, multiple languages and beautiful music, where shadows dance and floors move, where memory invades reality and the past becomes the future. Gecko invites audiences to ask: what happens when you choose not to remember? Missing is a journey into the depths of a person's psyche.
Founded in 2001, Gecko is led by Artistic Director Amit Lahav. Its first international hit Taylor's Dummies was created through the pioneering Scratch process at Battersea Arts Centre 16 years ago. The company creates world-class theatre that is ambitious to inspire, move and entertain audiences. Gecko's work is global, touring nationally and internationally. Previous productions include The Overcoat, The Arab and The Jew, The Race and Taylor's Dummies, which have been performed in London, Edinburgh, New York and worldwide.
Missing will have relaxed performances on Friday 7 September at 8pm and on Saturday 15 September at 2pm so audiences can move about, make noise and come and go during the performance.
Battersea Arts Centre's Phoenix Season will run from 6 September 2018–28 January 2019.