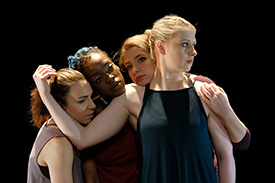 Fertile Ground is unique in its support of young dancers, offering them their first professional employment within the contemporary dance world, and the chance to work with internationally renowned choreographers. The dancers are also engaged in a range of outreach and teaching experiences during their time with the company.
It is the North East's leading professional early career dance company. It was established in 2013 to give opportunities to emerging dance artists, and to offer audiences and participants outstanding dance experiences. Often performing in unconventional spaces, the company commissions work by internationally recognised choreographers, touring the North East region and delivering high quality workshops in schools and communities.
Fully Grounded is the exciting new double bill of world premieres from choreographers ReGina Wielingen and Robby Graham, focusing on the theme of borders and barriers, real and imagined between people and cultures. The piece will be performed by Fertile Ground's new all-female cohort of dancers at theatre venues and arts and heritage sites until 21 July, including a gala at Dance City, Newcastle, the North East's development organisation for dance.
Guilia Coti Zelati dances as part of Fertile Ground.
Have always wanted to be on stage? Who or what inspired you to dance?
I started dancing when I was very little. My friends were going to dance classes, so I wanted to join in with them, and I never stopped so I guess I just wouldn't know how not to dance. I tried to take a break once, I'd just moved cities and changed schools and I wanted to give myself time to adjust, but that only lasted about a month!
Where did you train, and what was it like?
I did my BA (Hons) at London Contemporary Dance School, and I loved it. I always try to challenge myself with projects and classes that I feel the least comfortable in, and the variety of opportunities I was given in my training allowed me to do that.
What are you enjoying most about being part of Fertile Ground?
The past eight weeks with Fertile Ground have been very intense. We've been working full days every week, creating the two pieces that make up Fully Grounded's double bill and rehearsing them. As a freelancer, having the chance to work for such a solid period of time on a project is quite rare, and it's been great to be able to completely commit myself to the studio and the work. It's been challenging and exciting to bring the two pieces into the double bill, understanding how to shift from one to the other emotionally and physically, and I think to take ownership of the work in that way has definitely been the best part about working with Fertile Ground so far.
Can you describe the pieces in three words?
The pieces are very different from each other. Leemte for me is connections, space and identity, while Flashpoint is power, belonging and flock.
What has been the defining moment of your career? What has been the most challenging?
These are hard questions to give an answer to, as I feel like I'm too early on in my career to be able to answer them. I guess a turning point and highlight in my career was my apprenticeship with balletLORENT in 2015, as it was the first time I danced professionally outside of the safe environment of an institution. The most challenging so far has definitely been to keep motivating and pushing myself during quieter times as a freelancer.
What's the most rewarding thing about dance?
How connected I feel when I'm dancing. To others dancing with me, to the audience, to the space. It's something special.
What's the worst thing?
The fact that you don't always get to dance as much as I am right now.
Do you have any pre-show rituals?
Not really. I just like to have the time to get in the right mindset and bubble for what I'm about to perform. I like to get in the wings early to get in the zone.
What is your advice to an aspiring dancer?
Keep reminding yourself of the things you love about dancing. Trust yourself, persevere and take on every opportunity that comes your way. Keep challenging yourself and making things interesting for yourself!
What's next for you?
I'm going to take my own advice and take every opportunity that comes my way. I'm going to keep on dancing, keep on growing.