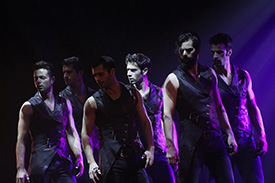 Open auditions will be held for male dancers for a Lloyd Newson project on 29 May at Rambert studios, London.
Lloyd Newson has pushed the boundaries of what dance can be, and say, for more than 30 years. His working methods focus on the connection between meaning and movement. As a result, this opportunity will mean working with a well-established name in dance, as part of a specific project in the summer.
Lloyd Newson is currently seeking exceptional male dancers to recreate Enter Achilles, a DV8 Physical Theatre company archive project. Rehearsals for Enter Achilles will officially commence in November 2019, and the production will tour internationally from 2020. The project will be co-produced by DV8 Physical Theatre, Rambert and Sadler's Wells. Applicants for dancers for this part of the project must be available for a two-week workshop period (paid) in July 2018.
Lloyd Newson and the company is looking for a broad range of applicants, with different ages and looks. Applicants should be fluent in English, have acting skills and the ability to deliver text convincingly. It is an advantage if you can speak in a British accent. You should have strong contemporary dance technique, but be more interested in understanding the intricacies of body language than reproducing abstract dance phrases.
Performers with experience in aerial rope/corde lisse is also on the list of desirable attributes. If you think you fit the bill and match the description as a dancer, please include a link to video of you demonstrating these skills as part of your audition registration.
This is an open audition, but dancers are required to register in advance via the online booking service. Places are limited and allocated on a first come, first served basis.