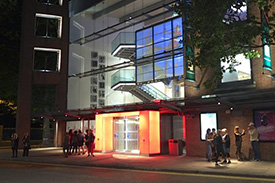 Sadler's Wells theatre has partnered with the BBC to present DanceWorks on BBC Four, four 30-minute artist-led films for broadcast as part of its forthcoming dance season. The films will be broadcast from Monday 7-Thursday 10 May.
In a new partnership, the BBC and Sadler's Wells have curated and commissioned DanceWorks, co-produced with Islington-based production company ClearStory. Each film in the DanceWorks series introduces the audience to a different artist: Zenaida Yanowsky, Dickson Mbi, Carlos Pons Guerra and Shobana Jeyasingh. The series follows them as they create new work, and gains behind-the-scenes access to the creative process; these films allow viewers a unique insight into the world of dance in Britain today.
The BBC Four Dance Season launches on Sunday 6 May and lifts the curtain on today's thriving dance scene, featuring some of today's most exciting dance makers and the enduring legacy of others, whilst shining a light on a broad range of dance styles from ballet and contemporary to tap and hip-hop. It means the BBC and Sadler's Wells can continue to bring dance to a wider audience through a different medium, and open the art form up to many more different people.
In addition to the Danceworks films with the BBC, Sadler's Wells' other broadcast and digital projects in 2018 include a partnership with Channel 4's Random Acts to commission three original films from Julie Cunningham, Alesandra Seutin and Botis Seva for broadcast later in the year. Linked to the new works the artists are creating for Reckonings in the 20th Anniversary week, the films will be creative entities in their own right, offering the three distinctive younger artists an opportunity to tell their stories in a different medium to a wider audience.