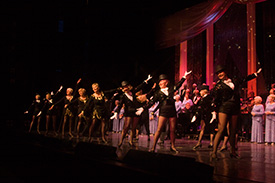 In exciting news for the theatre industry, director Dominic Cooke has confirmed that the National Theatre production of Stephen Sondheim's Follies will return to the stage next year. For many, the recent Follies run was short-lived and deserved a longer stint at the National Theatre on London's Southbank. With the return of the musical later this year, it means that many more audience members will be able to see this acclaimed production.
Speaking at the Critics' Circle Awards in London, Cooke made the announcement that they were going to bring Follies back. At the time of the announcement it was thought that the production would open at the National Theatre once again, a reasonably central hub for musical productions being located in Waterloo. With every element up for grabs, including casting, directing and any moves to another theatre after the run at the National, it is a very exciting time for the creative team and future cast.
With the musical opening once more, the rerun will give the team behind the scenes a chance to return to niggly production things once more, to try and return to the way things were done in order to rediscover elements of the show, and maybe even change some things. As such an iconic musical theatre production, it is sometimes tricky to embrace new and unique ideas, even when they might fit more snugly into the current stagecraft.
Follies opened at the National Theatre in September 2017, and closed at the start of 2018. The original production featured a cast of 37 including Imelda Staunton, Janie Dee, Tracie Bennett, Zizi Strallen, Philip Quast, Adam Rhys-Charles, Peter Forbes. The show was widely praised by critics and audiences alike, and was broadcast to cinemas internationally and around the UK.
The musical is set in a crumbling theatre where a reunion of old Follies girls reflect on their lives and their performing heyday.