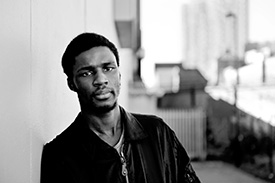 National Youth Dance Company (NYDC), the country's flagship organisation for young dancers which is run by Sadler's Wells, will work with choreographer Botis Seva as the next Guest Artistic Director of the company. NYDC begins its search for the next intake of 30 young dancers to join the company for 2018-19 and work with Seva to create a new dance production, with Experience Workshops taking place across England from May.
Seva takes over from the current Guest Artistic Director, Israeli choreographer and Sadler's Wells Associate Artist Sharon Eyal. Used To Be Blonde, Eyal's production with the National Youth Dance Company, premiered to critical acclaim at Sadler's Wells earlier this month and performs across England this summer as part of a UK tour.
Botis Seva is a dance artist, choreographer and director working within the realms of contemporary dance, physical theatre and hip-hop. He was awarded the Bonnie Bird Choreography Fund and Marion North Mentoring Award in 2015 and has won two international choreographic competitions: Choreography 30 in Hannover, Germany and Copenhagen's International Choreographic Competition.
Experience Workshops take place across England until July. The workshops are an opportunity to find out more about NYDC. Young dancers will take part in a company class, learn repertoire from NYDC productions and take part in creative tasks. Participants will also meet members of the current company, ask questions and get advice on dance training and careers in dance. Experience Workshops are used as an opportunity to be considered for a place in the 2018-19 company. They are open to dancers from all backgrounds and abilities, with experience in any dance style.
In addition to the core programme, NYDC runs additional projects that support dance in communities across the country. Current members will visit Falmouth in May for a residency with local young dancers who are a part of Propeller and Hall for Cornwall Youth Dance. This starts a creation process that culminates in a large-scale outdoor performance at the Eden Project in July. Also, NYDC recently partnered with the inclusive Corali Dance Company to create a new dance film, directed by Paul Davidson (a Corali and NYDC dancer), which has been developed into a workshop for young dancers with regional partners across England.