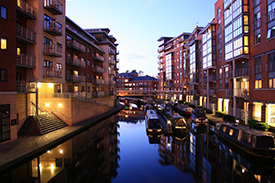 Birmingham Hippodrome has received almost £1.5 million to construct and oversee the Dance Hub Birmingham physical space development – expanding and enhancing the city's ambition to create a national home for dance. The Dance Hub extension will set Birmingham in motion to become a major UK centre for performing arts, and will consequently be able to expand dance services in the region. The development will also extend the Birmingham Hippodrome campus, creating a new dance hub above Birmingham Royal Ballet.
Delivered by Culture Central, Dance Hub Birmingham works with the arts sector to put dance at the forefront of cultural plans for the region. The development is a collaboration between The Greater Birmingham and Solihull Local Enterprise Partnership (GBSLEP) and five principal dance organisations, all with a regional, national and international outreach. They include Dance Hub Birmingham, Birmingham Hippodrome, DanceXchange, One Dance UK and Birmingham Royal Ballet.
The expansion project will create 17 new jobs, five new apprenticeships and enable 100 more dance performances per year at the Birmingham venue, increasing audience numbers to 15,000. It will also see a rooftop extension to the Birmingham Hippodrome building's fourth floor above Birmingham Royal Ballet. This includes the creation of 675 sqm of floor space, comprising a new large studio for dance, changing facilities, office space, a reception area and two meeting rooms.
GBSLEP's commitment of £1.48 million represents a third of the total project cost of the development, with the remaining £3 million of funding provided by Arts Council England. The cultural body also pledged a further £2 million to Dance Hub Birmingham last year to support additional dance activity and commissions, including the Birmingham Weekender arts festival.
The development is scheduled for completion in May 2019.