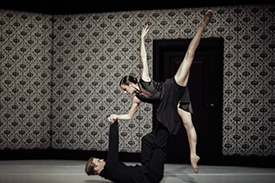 Nederlands Dans Theater is widely considered to be one of the most inventive and original dance companies in Europe. Comprising of two internationally renowned dance troupes, the premier group, NDT1, will perform at Sadler's Wells from 26 – 29 June.
Last seen in the UK in 2014, NDT1 is one of the world's most celebrated dance companies. The company of 28 dancers returns to Sadler's Wells with a revelatory programme featuring two works by resident choreographers Sol León and Paul Lightfoot, and works by Sadler's Wells Associate Artist Crystal Pite and Marco Goecke. Pite and Goecke are both NDT Associate Choreographers, and Pite is a Sadler's Wells Associate Artist.
In Shoot the Moon, Sol León and Paul Lightfoot offer glimpses of the love life of three different couples. Revolving walls covered in black and white wallpaper create three separate rooms, each containing its own love story. Shoot the Moon is an exploration of hidden emotions, set to a score by Philip Glass.
Also by León and Lightfoot, Stop-Motion sees seven dancers depict a process of farewell and transformation to melancholic music by Max Richter. As ephemeral as dust, they grace the stage like ghosts or spirits; lighting up and fading out. Stop-Motion aims to address the notions of past and future and how they merge into the present.
The Statement, a piece about a battle for control, is created by Crystal Pite with playwright Jonathon Young. The piece is based on a script written by Young that is expressed by four dancers who share a heated conversation around a conference table. Control, moral conflicts, responsibility and the inability to escape creates a piece that offers a wedge of realism.
Marco Goecke takes inspiration from the music of Jeff Buckley in the emotion-driven Woke up Blind. The two female and five male dancers are drawn into an acoustic world in which they excel in contesting Buckley's vocal power and his guitar sounds. Like lovers, they throw themselves into the unknown regardless of the consequences through highly complex movement.
NDT is known for combining virtuoso classical technique with intriguing visual sets and themes. Ever since founding in 1959, the company is renowned in the international dance scene and has performed to audiences all over the world including the USA, Brazil and China.