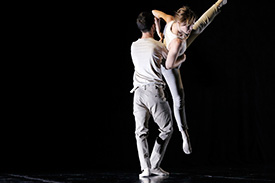 Northern School of Contemporary Dance's acclaimed postgraduate company VERVE has commenced its international spring tour. Under the direction of Matthew Robinson, the company will perform four bold new dance works in 18 towns and cities across the UK and Europe, culminating in a performance at The Place, London on 26 May. VERVE performances offer audiences a chance to witness the next generation of dance artists, on the cusp of their professional careers, and an opportunity to sample current, innovative voices in contemporary choreography.
The company has worked with acclaimed international choreographers to create four exhilarating and original new dance works. The group, based in Leeds, comprises fourteen dancers who have trained at some of the world's most prestigious dance schools. The works toured are part of a thrilling programme of highly physical, theatrical dance works, created by Robinson and three international choreographers. The programme will share a glimpse of what is happening right now in dance. It is a programme with collaboration at its heart, featuring costume, light and sound design by an international array of collaborators.
This year's repertoire includes new works by international choreographers Hannes Langolf (Germany) and Sita Ostheimer (Germany), a reworking of the award-winning 'Riders' by Lenka Vagnerová (Czech Republic), and a new work by VERVE Artistic Director Matthew Robinson (UK). Birds are the inspiration for Lenka Vagnerová's 'Riders', which has been reworked especially for the company. The dancers take on bird-like behaviour and movement in a work that captures the raw power of the natural world.
'NEVERSINK', created by Artistic Director Matthew Robinson, is a physically poetic and vivid reminder to embrace transformation, and Hannes Langolf has worked with the dancers to create 'wolf', an athletic piece that explores pretence and bravado through body language and spoken word. Completing the diverse programme this year is 'NOBODY 'CEPT YOU' by Sita Ostheimer, which delves into emotional worlds, layering rhythm, sound and light to explore longing and desire.