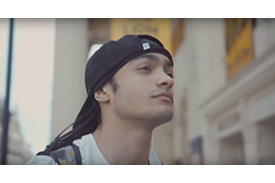 Nathan Louis-Fernand is a dancer in the West End's The Lion King. Disney's award-winning musical is now in its 19th triumphant year at the Lyceum Theatre; since the UK premiere in October 1999, the show has entertained over 15 million theatregoers and remains the West End's best-selling stage musical.
This personal video takes a look at what goes into the journey and rehearsal process of performing in a West End show; and the challenges and rewards that come with it. It also highlights the sheer physicality of performing eight shows a week in such a demanding role. The video can be viewed here.
The Lion King is currently the sixth longest-running West End musical of all time.
Have you always wanted to be on stage?
No, not always. When I was younger I wanted to be a professional athlete, sport was what took up pretty much all of my time. I did anything I could get my hands on really. Track and field, rugby, karate, hockey, football. Anything and everything.
Who or what inspired you to pursue a career in the performing arts?
I had a lot of inspirations that came from many different places. Even though I didn't always dance I always loved it. I used to sit up in the evening and watch videos of Fred Astaire, Gene Kelly, Ginger Rogers, Sammy Davis Jr and the rat pack for hours on end. I always wanted to learn to move the way they did. Films like Step Up and You Got Served also played a big part in my passion for dance. But it wasn't just films. I had my older brother Jordan who had always done performing arts and still does. I learnt a lot from him just listening to him singing in his room and watching his shows! My two secondary school teachers Mrs Mitchell and Mr Sammy were both very supportive and encouraged me to push myself in drama and singing; they still support both me and my brother. And last but not least my parents of course!
Where did you train and what was it like?
I started technical training at the Sylvia Young Theatre School. This was a massive change from growing up in the countryside but I loved every moment of it! I had wonderful teachers there who really helped me discover myself as a performer and push my boundaries, and I always had a great laugh with my friends as well. I then went to The Urdang Academy where I furthered my training and was taught by their expert faculty how to be a professional adult performer. Both these places mark some of the best years of my life: I learnt from some brilliant people and got to participate in some performances that I will never forget.
Describe a day in the life of Nathan now.
A usual day for me starts off with a lie in as I love to sleep! But once I'm up I like to start my day with music as I think it really helps you start your day in a good mood. I'll have a little breakfast and shower, then if my housemates are in I'll usually chill with them and chat for a while before heading off to grab some food and making my way into work. In the evening i like to eat when I get home, roll out my muscles if they're feeling sore, have a little stretch, and I love to have a soak in the bath before bed!!
What has been the defining moment of your career?
As my career is still very young (I hope) I would have to say that joining the cast of The Lion King has been the defining moment of my career. The cast, creatives, crew and all departments really make this show what it is. I have made some amazing friends and going out on that stage every night with them is something very special, I count my blessings each and every day.
What has been the most challenging?
The most challenging part of this line of work for me would have to be dealing with injuries. Working around an injury is as much a mental thing as it is a physical thing. When you have to be off work for an extended period of time it can be really difficult to keep in a positive mindset. I'm lucky enough to do what I love for a living and when you can't come into work for a week or two it can really affect your spirit. But it's important to stay on track and work through your injuries and make sure you come out better the other side.
What's the most rewarding thing about the performing arts?
For me the most rewarding part of performing is when you see people, whether it's adults or children embracing the magic that theatre and performance creates. Seeing people tune into what's going on whether there's no words being spoken or they don't understand the language. It never fails to put a smile on my face. Theatre really does leave a lasting positive effect on people when done correctly. When you see and hear people gasping at the elephant coming down the aisle or the gazelles leaping across the stage, and you see them forget where they are for a moment and immerse themselves in the story that's being told around them. It really is something special and I feel blessed to be a part of creating this magic.
What's the worst thing?
It's difficult to say something is the worst thing, as everything has its pros and cons. Of course there is the strain it can put on your body. The injuries that come with it. The ups and downs of getting a job and then not being so lucky the next time. But as performers we are so lucky to be able to do what we love for work, that whatever you deem a bad thing you always put aside, as you count your blessings for being in a position where your bad thing has come through doing what you love. It's quite a confusing but nice cycle.
Do you have any pre-show rituals?
My pre-show rituals consist of making sure I have eaten before my make up call so I have enough energy. Double checking I have everything I need to start. Then going down to the stage and warming up with some of my other cast members. It's a nice time to figure out what's sore on your body and to massage and stretch it. And to have a laugh really, I believe that keeping a good spirit is vital to your work. I'm lucky enough to be a part of The Lion King family which is full of love and laughter and it really keeps you going. Lastly I always make sure that I wish everybody a good show!
What is your advice to an aspiring dancer?
My advice to an aspiring dancer would be of course keep training, try and gather as much knowledge as you can about yourself and the industry, both physical and mental knowledge. Try and experience as much as possible. Push your boundaries, strive for success. But also make sure you are a smart dancer. When you are young it's easy to get caught up in the excitement of it all and forget to take things into account. Injury is something I hope people can avoid but unfortunately it gets some people. Whether it's a small injury or something long term. I have suffered from a lot of injuries, some which are long term and I am still dealing with now. I know how hard it is when you have to sit out from class or miss work due to an injury. I know it can be frustrating and a real mental battle to have to sit still sometimes. But it is so important for yourself and your career that you do everything possible to help keep yourself strong and healthy or to help heal yourself. So please make sure you eat well, drink lots of water, warm up properly and cool down. Stretch and roll out your muscles. Your health is vital.
What's next for you?
At the moment who knows what the future holds. I'm very much enjoying my time at Lion King – it's a wonderful company and I have had many opportunities since starting here, so I will be staying for the foreseeable future. But there is so much out there that I'd like to try my hand at and hopefully I will have the opportunity to do some of those things. Hopefully you may see me in either a supporting/principal role in a show or maybe on TV. It's as much a guessing game for me at the moment as it is for yourselves. But I would really like to grow as much as possible as an artist over the next few years and broaden my horizons.