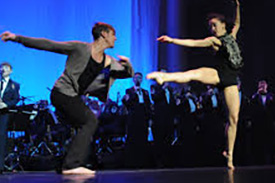 The BBC has commissioned Simon Cowell's Syco Entertainment to produce a new Saturday night dance talent show, inviting Britain's best dancers to take to the stage to compete on BBC1.
The Greatest Dancer, an 8 x 60 entertainment series, will feature a host of talent from across the world of dance as they give the performances of their lives in the search for the UK's Greatest Dancer. From ballet to jazz; hip hop to Bollywood; the show is open to any performer. Expect dramatic auditions, incredible challenges and remarkable live performances as dancers from across the nation leap onto the stage each week in the hope of being crowned the winner at the end.
With the continued success of Strictly Come Dancing, it is clear that watching and taking part in dance is becoming much more poplar. By launching The Greatest Dancer the BBC wants to give the vast array of dance talent across the UK the chance to shine, and uncover a multitude of talents from across the country. The audience will also be able to critique and celebrate the nation's unsung dance heroes similar to that within other entertainment shows currently on our television screens.
It is reported that the auditions for the pilot episode saw some of the most jaw dropping, heartfelt and moving auditions ever seen on a dance show. The Greatest Dancer is expected to be full of warmth, with the pilot revealing some truly magical moments. The show will be screened on Saturday nights, a treat for the whole family to enjoy.
The Greatest Dancer will be executive produced by Nigel Hall, Global Head of Television, Syco Entertainment, and Amelia Brown, Managing Director, Thames TV.