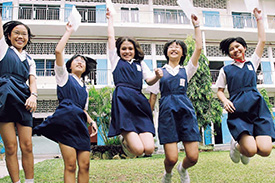 The Let's Play programme aims to give primary school teachers adequate training and guidance on directing a series of specially commissioned plays, and creating opportunities for young students to be involved in every stage of a theatre production. Considering the fact that many creative subjects have been squashed from the curriculum across schools, this appears to be a hugely positive move.
The programme was unveiled by the National Theatre in a bid to secure the future of arts provision in schools and ensure drama remains a vital part of children's education. Let's Play is based on an idea by director Katie Mitchell and backed by Lenny Henry; it will allow primary schools to stage plays from a series of specially commissioned scripts, involving students in all aspects of planning and creating a theatre production.
Teachers will gain access to lesson plans that link to other areas of the curriculum, and they will also receive training and professional development, in addition to guidance on how to direct the chosen plays. Let's Play aims to support schools across the country, and to develop teachers' skills to ensure that the arts, including drama and theatre, remain a vital part of school and future life. The scheme will work to engage primary school children in the artistic process, and the scheme as a whole.
As part of Let's Play, the National Theatre is aiming to enlist at least 700 schools to take part in the scheme over the next three years. If successful, this will go great lengths to project the arts and creative subjects to young people. It will provide students with the opportunity to engage with creativity and thrive on it as a result.