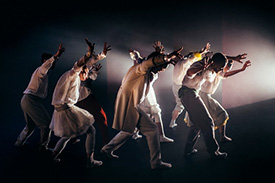 Hofesh Shechter Company, in association with HOME Manchester and Lyric Theatre Hammersmith, will presents the UK premiere of SHOW, from 8–12 May at Lyric Hammersmith, London.
Performed by Shechter II, the apprentice company of the celebrated choreographer for dancers aged 18-25, SHOW is a wild and mischievous performance composed of three acts: The Entrance, Clowns and Exit. Combining Hofesh's bold, exhilarating and tribal choreography with a pulsating score, SHOW revolves around a group of performers as they play their parts in a macabre circus of comedy, murder and desire. It is a comic vision of a topsy-turvy world where fools can be kings and kings fools, performed in the company's unique and unforgettable theatre-dance-rock-gig style.
The production will embark on an international tour to leading venues in Italy, France and Luxembourg before receiving its UK premiere at the Lyric Theatre Hammersmith on Tuesday 8 May, where it will play six performances only. It will then travel to Belfast, Ipswich, Kent, Manchester and Southampton. The Shechter II dancers will also participate in the company's East Wall at the Tower of London in July.
Over 1,000 dancers auditioned for Shechter II and the final eight, drawn from the most inspiring young talent across the world, represent the very best of the next generation of contemporary dancers. They are Riley Wolf (UK), Juliette Valerio (France), Zunnur Sazali (Singapore), Adam Khazhmuradov (Belgium), Natalia Gabrielczyk (Poland), Emma Farnell-Watson (UK), Robinson Cassarino (France) and Neal Maxwell (Switzerland).
Shechter II builds on Hofesh Shechter Company's firm commitment to nurturing young artists. Few up-and-coming dancers have the chance to perform in different spaces to different audiences supported by an experienced creative and technical team. Shechter II allows dancers at the early stages of their career the opportunity to be mentored by long-standing Hofesh Shechter Company members and have access to world-renowned venues and the stability of an apprentice salary.