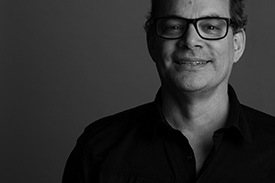 Mark Baldwin OBE is to step down as Artistic Director of Rambert, the UK's leading contemporary dance company. Mark, who has held the position since 2002, is leaving Rambert to devote more time to his choreographic work.
In his time at the helm he worked to move Rambert into a new purpose-built facility on London's South Bank, and to launch Rambert2, the company's new junior company. Additionally, Rambert and the Rambert School of Ballet and Contemporary Dance have never been closer. Mark has commissioned over 60 works, both new and revivals, for the Rambert dancers, and has held the role for 16 years, the longest stint of any artistic director of the company.
Born in Fiji and educated in New Zealand, Mark Baldwin joined Rambert as dancer in 1983. After 10 years working as an independent choreographer he was appointed as the seventh Artistic Director in Rambert's history and took up the role in December 2002.
He has created eight works for the company during his directorship, from 2005's Olivier Award-nominated Constant Speed to his 2016 staging of Haydn's The Creation, which celebrated Rambert's 90th anniversary. His commissions have included works from Karole Armitage, Javier de Frutos, Shobana Jeyasingh and Doug Varone. Talent development has also been a feature, promoting the choreographic careers of dancers from the company, and launching successful fellowships for emerging choreographers and composers.
During his leadership the company has received five Olivier Award nominations, winning twice, and has also won two TMA/UK Theatre Awards, and 13 National Dance Awards. Mark was the figurehead for a £20million campaign to build the company's first ever purpose-built home, a state-of-the-art facility. He has overseen a growth in audiences and an extension of the company's learning and participation activity – in 2016/17 the company's work reached over 175,000 people, the biggest total in its 90-year history.
Image (c) Nick Guttridge