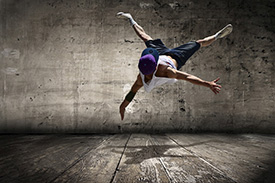 Dance development organisation and creative producer East London Dance, and music talent development organisation, talent incubator and educator Urban Development, announced today that they have secured a joint funding bid from the Mayor of London's Greater London Authority Good Growth Fund for £1 million, to create the UK's first National Talent House for urban culture in Stratford, east London.
The funding will match £1 million (£500,000 per organisation) already secured from the Arts Council England Small Capital Grants programme in 2017, and will enable the fit-out of a 1,000+ square metre historic warehouse and modern extension as part of the Sugar House Island Development (formerly Strand East) adjacent to the Queen Elizabeth Olympic Park.
Inspired by the need to ensure that diverse and disadvantaged young people from east London benefit from the legacy of the 2012 Olympic and Paralympic Games, the centre will offer an aspirational space to unlock the potential of musicians, singer songwriters, composers, dancers, choreographers and producers and enable progression to further/higher education, employment and enterprise. It will also be an incubation hub with strong industry links for innovation in the creative industries, launching new projects, products and careers.
East London Dance and Urban Development are leaders in urban culture and drive the vital diversification of the dance and music sectors, through investment in nurturing and championing new authentic voices and providing platforms to gain recognition. Building on nearly two decades of collaboration, both organisations will share the building that will become their new permanent home – enabling the growth and sustainability of their vital work, engaging and developing diverse young talent aged 14–30 years.
This building will not only provide a new home for East London Dance and Urban Development but will be an authentic space that listens and responds to artists, young people and the local community. It will help produce a vibrant new creative hub and create a home and meeting point for the urban arts community. The new building will make the organisations fit-for-purpose, allow accessibility to talent, encourage diversity and connect London's sub-cultures to new audiences, markets and opportunities.