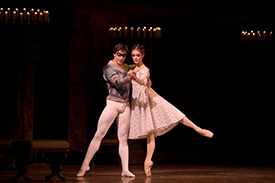 In honour of Kenneth MacMillan, the hugely influential and ahead-of-his-time choreographer, the legendary ballerina Viviana Durante will direct a programme from his earliest works. The Barbican will host Viviana Durante Company and Kenneth MacMillan: Steps Back in Time, from Wednesday 18–Saturday 21 April.
MacMillan began creating his own ballets in the 1950s. Believing that dance had the power to explore humans, he made potent stories with an emotional quality that invited audiences to become caught up in the fate of his characters. As an artist whose association with MacMillan dates back to their time at the Royal Ballet, Durante has both danced and revived his creations. To celebrate his legacy and to mark 25 years since his death in 2017, she will select extracts from House of Birds and Danses Concertantes, and present Laiderette in full.
Together the works will highlight the boldness, insight, complexity, wit and relevance of MacMillan's choreography. Performed by artists from Ballet Black, Scottish Ballet and the Royal Ballet, including principals Lauren Cuthbertson, Francesca Hayward and Thiago Soares, each contains a passionate pas de deux, another famous MacMillan forte.
Born in Rome, Viviana Durante trained at the Royal Ballet Lower and Upper Schools from the age of 10. She joined the Royal Ballet in 1984, aged 17, and was promoted to principal dancer at 21. Noted for her versatility, Durante danced all the major roles in the classical repertoire. MacMillan created roles in Winter Dreams and The Judas Tree for Durante. She left the Royal Ballet in 2000, joining American Ballet Theatre as principal dancer and as principal guest artist at La Scala Ballet, Milan and K-Ballet, Tokyo.
She is Artistic Director of Viviana Durante Company which she founded in 2010. Among her other roles she is a development board member of One Dance UK, the consultant on the forthcoming book Ballet: The Definitive Illustrated Story (DK Publishing), and a patron of the Hammond School and New English Ballet Theatre. She has won many international awards and honours, beginning in 1989 when she became the youngest ever recipient of the Evening Standard Ballet Award.