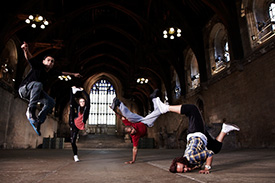 Breakin' Convention, the renowned Sadler's Wells project, celebrates a landmark 15 years this May Bank Holiday. To honour this anniversary Breakin' Convention's Artistic Director, UK hip hop theatre pioneer Jonzi D, has created an extended programme reflecting on the festival's achievements, as well as looking forward to the future and possibilities of hip hop dance and culture.
The international festival of hip hop dance theatre takes over the whole of Sadler's Wells, including the Lilian Baylis Studio, from Saturday 5 – Monday 7 May. Renowned for showcasing high calibre and diverse representations of hip hop dance theatre from across the globe, Breakin' Convention takes this even further via an innovative collaboration. Breakin' Convention goes beyond presenting work on the stage and continues to support and inspire the next generation of hip hop artists with learning and engagement projects and professional development platforms.
As well as world class dance crews and soloists, the 2018 programme features live music via Jazz re:freshed, the live jazz organisation, also celebrating its 15th anniversary. An ensemble of 15 leading jazz musicians provide original soundscapes to accompany five newly commissioned works from dancers to mark both festivals' illustrious histories. The line-up includes Olivier Award-winning Boy Blue Entertainment and The Locksmiths from London, Netherlands-based b-boy crew The Ruggeds, French hip hop freestyle dancer Mufasa and even Jonzi D himself, premiering new work to a score composed byJazz re:freshed's Musical Director Jason Yarde.
During the festival, Sadler's Wells' foyer will be transformed so that audiences can enjoy dance workshops, live graffiti, award-winning hip hop DJs, MCs and impromptu dance circles spilling out all over the building, creating an unforgettable and inclusive experience for all ages. The festival has firmly established itself as one of the major highlights on the British dance calendar and one of the world's greatest celebrations of hip hop culture, and continues to tour internationally in its 15th year.