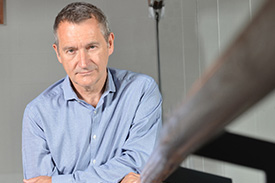 David Bintley CBE has announced he will step down as Director of Birmingham Royal Ballet at the end of the 2018/19 season, on 31 July 2019, after 24 years. After such a long tenure David plans to pursue increasing international requests to choreograph new works and to stage his ballets. He has just returned from working with Sarasota Ballet in the USA who recently premiered his 'Still Life' at the Penguin Café, meaning his new work would simply be an extension of this.
David joined the company 42 years ago, and has led it for the past 23. David Bintley took over from Sir Peter Wright in 1995, and has taken Birmingham Royal Ballet from strength to strength, cementing the company's place as the custodian of 19th-century classics and 20th-century masterpieces. He has also ensured BRB has continued to create new works and to lead the way with innovation. David has choreographed more than 10 full-length and 12 one-act ballets for the company. Additionally, he has commissioned a further 21 ballets by guest and company choreographers, with four more world premieres due to be presented in his final season.
Birmingham Royal Ballet's 2018/19 season will celebrate choreography including The King Dances (2015), Beauty and the Beast (2003), and Hobson's Choice (1989). Plans for the global search to appoint David Bintley's successor will be announced shortly.
Based at Birmingham Hippodrome, Birmingham Royal Ballet is the UK's leading classical ballet touring company performing a range of traditional, classical and heritage ballets, as well as ground-breaking new works with the aim of encouraging choreographers of the future. The company performs at the Hippodrome for approximately ten weeks of the year, and the remainder of the year it tours throughout the country and overseas.