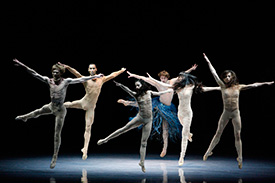 The 2018/19 season for The National Ballet of Canada was recently announced by artistic director Karen Kain. As part of the season, the company will tour to Hamburg, Germany, with an all-Canadian programme of James Kudelka's The Man in Black, Emergence by Crystal Pite and The Dreamers Ever Leave You by Choreographic Associate Robert Binet.
In terms of repertoire it is set to feature the North American premiere of Anna Karenina, choreographed by John Neumeier. Based on Leo Tolstoy's great masterwork, Anna Karenina is the first co-production between the National Ballet, The Hamburg Ballet and The Bolshoi Ballet. The season also features two company premieres by William Forsythe, The Vertiginous Thrill of Exactitude and Approximate Sonata 2016. The works will be presented with The Second Detail in an all Forsythe programme. Also to be presented is Frederick Ashton's The Dream in a programme with Being and Nothingness by Choreographic Associate and Principal Dancer Guillaume Côté. In 2019, Christopher Wheeldon's Alice's Adventures in Wonderland and George Balanchine's Apollo, Paquita and Robert Binet's The Sea Above, The Sky Below will also be showcased.
Choreographic Associate and Principal Dancer Guillaume Côté's Being and Nothingness, is inspired by Jean-Paul Sartre's philosophical work of the same name. Frederick Ashton's The Dream, based on A Midsummer Night's Dream, is one of the most admired ballet adaptations of Shakespeare's work.
Originally created in 1846, Paquita is full of 19th-century classicism and is an impressive example of technique. George Balanchine's 1928 ballet, Apollo, established a new aesthetic that brought the language of classical ballet into a modern context, merging the past with the future and altering the conception of ballet forever.
Few children's texts have left such an imprint as Lewis Carroll's Alice's Adventures in Wonderland. Christopher Wheeldon brings his distinctive and imaginative sensibility to the work, creating a theatrical celebration like no other.
William Forsythe's The Vertiginous Thrill of Exactitude is a short, but demanding work created in 1996, demonstrating the excitement of pure classical technique. Approximate Sonata 2016 is a more subdued pas de deux, and The Second Detail was created for the company in 1991.