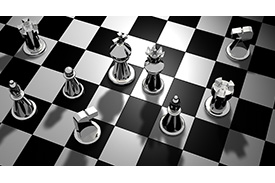 Casting has been confirmed for the West End production of Chess which opens at the London Coliseum later this summer, which has seen Michael Ball, Alexandra Burke and Cassidy Janson confirmed for production's West End revival. To the delight of fans, not only was the musical set to return but it is now also set to feature huge theatrical stars.
The principal cast will be composed of Olivier Award-winner Ball (Les Misérables, Passion, The Phantom of the Opera) as Anatoly, Burke (The Bodyguard) as Svetlana, Murray Head (from the original Chess production, Jesus Christ Superstar) will star as The Arbiter, Tim Howar (Peggy Sue Got Married, On The Town) as Freddie, and Janson (Beautiful, Tick Tick Boom) as Florence.
The classic production debuted with 1984 music by ABBA songwriters Benny Andersson and Björn Ulvaeus, and Tim Rice (Jesus Christ Superstar, Evita, The Lion King). It tells the story of two chess champions, Freddie and Anatoly, battling it out in the midst of the Cold War against an extremely political backdrop. When it debuted in the West End it starred Elaine Paige, Murray Head and Tommy Korberg, and includes well-known musical numbers such as "I Know Him So Well" and "One Night In Bangkok".
This version of the musical production will be directed by Laurence Connor (School of Rock), conducted by John Rigby, and with choreography by Stephen Mear. It will run in collaboration with English National Opera at the Coliseum, a limited season from 1 May to 2 June, with previews showing from 26 April.