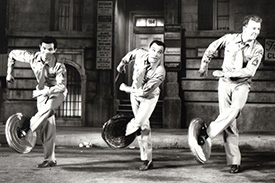 The Summer/Autumn 2018 season at Sadler's Wells contains thrilling dance for its audiences. It includes:
The Tap Pack brings a new energy to a timeless style. With slick suits, sharp wit and songs from Frank Sinatra to Ed Sheeran, Australia's finest tap dancing performers are a cocktail of entertainment, serving up classics with a twist, with a live fourpiece band.
Based in Dresden, the Semperoper Ballett is internationally renowned. Its triple bill of works by William Forsythe compliments the dancers' technical expertise and performance. Opening the programme is In the Middle, Somewhat Elevated, a work that changed ballet forever with its deconstruction of the classical ballet technique. Neue Suite is made up of a series of pas de deux, choreographed between 1987 and 1999, set to music by Bach, Berio and Handel. Finally 11 dancers cavort around a winding wooden wall in the energetic Enemy in the Figure.
Since 1989, Company of Elders, Sadler's Wells' inspirational over-60s performance company, has been demonstrating the power of lifelong creativity and proving it is never too late to start dancing. In this mixed bill they bring new work from three exciting female choreographers: Holly Blakey, Adrienne Hart and Seeta Patel.
Sadler's Wells Associate Artist Wayne McGregor has made work that interrogates life through the experience of the body. Now McGregor turns his attention to the body, with a dance portrait illuminated by the sequencing of his own genome. In a continuous reimagining, Autobiography is reinvented at each performance, assembled from a collection of choreographic volumes which unfold uniquely every time.
Vaibhavi and Shruti Merchant's glitzy Bollywood extravaganza is set to dazzle once more as it returns to The Peacock. Featuring music by Academy Award-winning composer A.R. Rahman, and Bollywood composers Salim & Sulaiman Merchant and Monty Sharma, Taj Express showcases a fusion of classical Indian and contemporary dance in a celebration of the world's most prolific film industry.