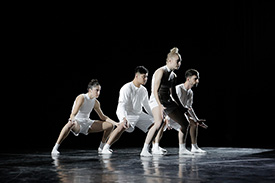 The Place, home to one of London's boldest dance theatres, has recently announced its spring programme, full of eclectic and entertaining dance theatre. The Place is also home to London Contemporary Dance School and Richard Alston Dance Company, so there is so much dance which takes place under one roof. Additionally The Place is committed to nurturing emerging artists and supporting creative risk, welcoming a wide variety of dance to its studios and stage.
Some of the most innovative British and international dance artists will take to the stage in The Place's Spring season, which has already begun. It will feature new commissions, festivals, artist talks, family events and projects with pioneering organisations including the Roundhouse, Battersea Arts Centre and London Contemporary Dance School. This season also sees the launch of Spectator School Socials, a new programme bringing people together to explore and experience dance theatre.
Highlights include:
Lost Dog's Juliet & Romeo: A Guide to Long Life and Happy Marriage, which runs from 27 February to 3 March. The piece imagines if Shakespeare's star-crossed lovers hadn't died, and were now in the throes of middle age and couples therapy. An interesting take on perhaps the most famous love story.
TUNE-D IN Festival will run from 4-7 April, and is the culmination of a seven month project featuring young people aged 13-19 with a shared passion for creating music and dance. There will be public workshops, classes and a performance on 7 April.
Forecast (6-7 March) is a brand new solo by Amy Bell exploring the shifting landscapes of the gendered body.
Family shows will take place in April: Rustle by Räserbyrån is an interactive performance for children aged six months-two years (13-14 April), and Ballroom by Chiara Frigo (14 April) is an intergenerational collective live dance experience for ages seven and over.
Nikki & JD perform Knot (from 17-18 April) as part of Roundhouse CircusFest 2018, displaying stunning acrobatics and telling a tale about the bonds between partners.