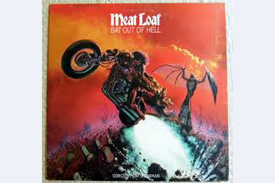 With the show's leads, Andrew Polec and Christina Bennington, previously announced, the full company has now been cast for the 2018 West End run of Jim Steinman's Bat Out Of Hell – The Musical, winner of the Evening Standard Radio 2 Audience Award for Best Musical 2017. Performances will begin at the Dominion Theatre in London on 2 April.
The cast will be led by Polec as Strat and Bennington as Raven, with Rob Fowler as Falco and Sharon Sexton as Sloane. Also starring will be Alex Thomas-Smith as Tink, Danielle Steers as Zahara, Wayne Robinson as Jagwire, Giovanni Spanó as Ledoux and Patrick Sullivan as Blake. Also in the cast will be Kyle Anthony, Emily Benjamin, Christopher Cameron, Georgia Carling, Natalie Chua, Jonathan Cordin, Rob Copeland, Hannah Ducharme, Isaac Edwards, Collette Guitart, Eric Hallengren, Vicki Manser, Rhianne-Louise McCaulsky, Aston Newman Hannington, Eve Norris, Joseph Peacock, Kyle Roberts, Craig Ryder, Dawnita Smith, Courtney Stapleton, Julie Stark, Charlotte Anne Steen and Sam Toland.
Bat Out Of Hell – The Musical wowed critics and public alike when it played limited seasons at Manchester Opera House, London Coliseum and Toronto's Ed Mirvish Theatre in 2017, and has now been seen by nearly 500,000 people. The show received the most nominations for a musical in the 2018 WhatsOnStage Awards, with eight nominations.
For the stage musical, the award-winning Jim Steinman has incorporated iconic songs from the Bat Out Of Hell albums, including You Took The Words Right Out Of My Mouth, Bat Out Of Hell, I Would Do Anything For Love (But I Won't Do That) and Two Out Of Three Ain't Bad, as well as two previously unreleased songs, What Part of My Body Hurts the Most and Not Allowed to Love.
It is a romantic adventure about rebellious youth and passionate love, set against the backdrop of a post-cataclysmic city adrift from the mainland. Strat, the forever young leader of The Lost, has fallen for Raven, daughter of Falco, the tyrannical ruler of Obsidian.